Who writes songs for attention?
Short answer. Me. But before I go any further let me explain how I don't mean songs JUST for attention. I'm talking about songs with an ulterior motive. And, in my case, that motive included breaking down a woman's resistance. No, not the way you're thinking. Get your mind out of there.  

Get The Rhyme and Reason Podcast Delivered, Free Apple Podcasts | Google Podcasts | Spotify | Amazon Music | Android | Pandora | iHeartRadio | Stitcher | Podchaser | Podcast Index | Email | TuneIn | Deezer | RSS | More

I wrote songs for attention because they were my secret weapon.
Way back in 1985 I met a beautiful girl. And a bolt of lightning struck my amygdala and cerebellum like never before. Some might call it love at first sight. But it wasn't that sugar-coated, namby, pamby silly lovestruck moment you see in dorky movies. Far from it. In fact, I didn't even attempt to pursue her at that time. Because, as it turned out, she was married. And I already had a girlfriend.
And this striking woman lived and worked in an establishment, in Florida, where my band and I were booked for a month. So, any thoughts of a relationship were doomed from the start.
Then, almost a year later in April of 1986, I was booked back in that establishment as a solo entertainer. And I was booked as the "house act" for the top floor, snazzy jazzy, club overlooking the bay. So, that meant I'd be there for awhile. And on my very first night to perform, there she was. Working in that top floor club full time.
And we lived happily ever after.
NO!
The dream girl was still married to another. But at least I could see her and talk with her on my breaks. And as my time there continued we got to know each other a little better. And that's how I discovered what an amazing woman she truly was. Because I could see she was doing her part to be true blue to a husband who was anything but. And that's a story all its own.
As it turned out, I decided to go another way in my musical career. And I ended my "house gig" after only three months. That's when my brother and I went on the road, full time, for a couple of years. And I left the dream girl behind. But…
Every once in a while I'd send her a card or note from the road. And I'd mail it in care of where she worked. Once in a while I'd be somewhere long enough to get mail in return. So, I'd write and ask her to write me. Purely as friends. And she only wrote me a few times in two years. And each time was a polite letter saying I shouldn't write her anymore.
Shot down in a blaze of glory.
So, it was definitely time to throw in the towel and add it up to experience. Right? But I didn't have one of my own towels handy, and I didn't wanna steal one from a hotel. So, I didn't throw in the towel quite yet. I kept sending a card or note every once in a while.
After a couple of years on the road, with my brother, I decided I wanted to come in for a landing. And I moved to Lakewood, Colorado with just my savings and dreams of making my stand in the Rockies.
I sent a few more cards and notes to the dream girl. But quite a bit of time passed with no replies.
So, I decided it was time to move on and maybe even find another "dream girl" in Colorado.
But then, one day in the Spring of 1989, I found an envelope in my mailbox from the girl in Florida. And she told me how she'd spent the previous months filing for, paying for, and getting a divorce. She said how there had been no marriage for a couple of years. And that she was finally over trying to make it work with a totally unfaithful man. And she said if I was still interested, she'd like me to call.
I said, "No way!"
Ha! Not really. I said, "Yes, I'd like that very much." So, I called, and we talked for a long time. And that was when long distance calls were still awfully expensive. So, even though we started calling each other more than we could afford, I decided to get even more serious about letter writing.
And that's when she began to get letters in her mailbox literally every day. Well, except for Sunday. But every other day. And many times, I'd send two, three, and four letters on the same day. Because I knew the beautiful girl would be wooed by guys right there where she lived. And I needed some sort of advantage.
That's when I started writing, recording, and sending her songs. I knew other guys would have location advantage. But I was counting on my songs to get her attention. And I wrote her a bunch of songs…including one for her name.
As it turned out, my secret song weapon helped me win the day. And she asked me to visit her. I did. Then, she visited me. And then a knot was tied in a couple of hearts that is still strong over 31 years later.
So. There's are some lessons in there for you single guys. I'm not gonna point 'em out. It's up to you to find 'em and use 'em. But I will say this. If you're a musician, and you decide to woo a woman with letters and songs for attention, make them be about true love. Not sappy. And certainly not with the selfish motive of sex. Instead, tell her things like…
I Like Your Style
I feel lonely…do you think about me?
I want to be feeling your arms around me.
And I need your touch "˜cause it would help me so much
I like your style…oh yeah
It always makes me smile
It could be habit-forming; watch out!
I really like your style…oh yeah
My finger's on the dial
Ready to call you again; watch out!
"˜Cause I like your style…
I hear you say…just how you missed me today
And my eyes shine; I hope I'm not out of line
To say my heart and yours should not be apart
repeat chorus…
Anything I hear you say…
Always melts my heart away…
I like your style…
© 1989 Tony Funderburk
Stay tuned,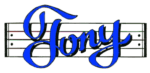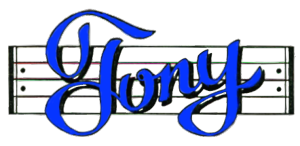 Get my Rhyme & Reason Podcast delivered (free) right to your player.
My books are also on Amazon.com or Apple Books
Grab yourself a cool tee
Or how about some music for kids