Can poets and writers be action igniters?
In a word…Yes! Words and music have been at the center of my life for as long as I can remember. There's nothing more satisfying than writing a new book, poem, or song, playing it for someone for the first time, and getting a smile or a nod of approval. And I remember how much I loved studying famous poets and writers when I was in high school.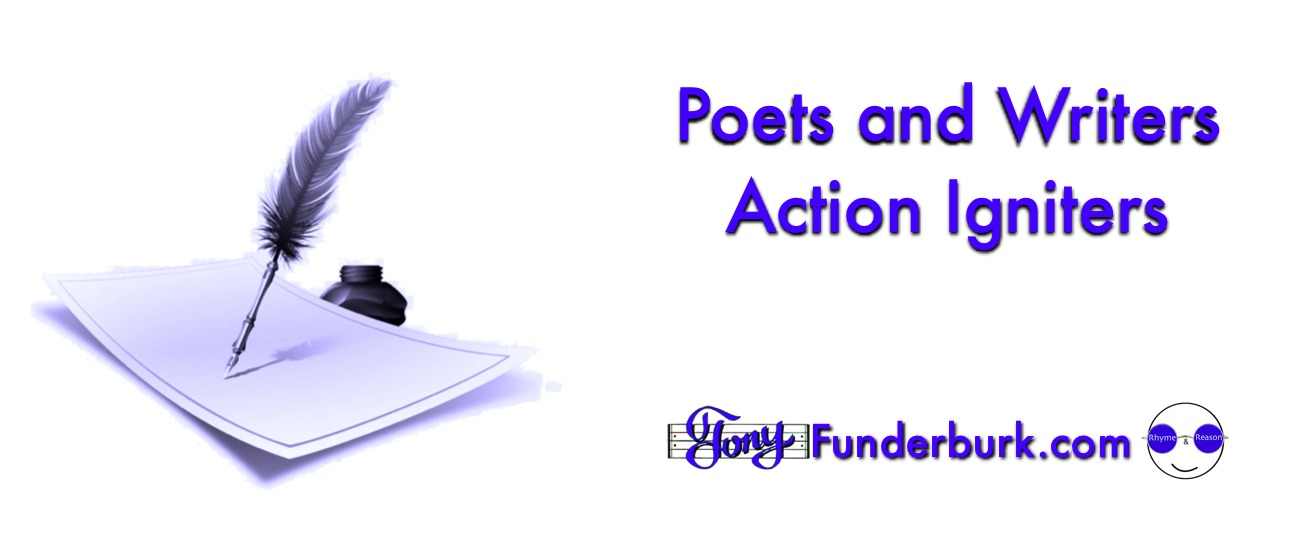 If you prefer to listen, here's the Rhyme and Reason Podcast Episode 216


Podcast: Play in new window | Download
Tune In On iTunes Apple Podcasts | Android | Email | Google Podcasts | Stitcher | TuneIn | Spotify | RSS | More
About the time I became a junior in high school I started writing poems to market myself to girls. My parents divorced a little before I entered grade school. And my younger brother and I spent school time in Texas and summer time in Kansas. So, I didn't get to play organized sports…which meant there was no chance of wooing the opposite sex with my prowess on the "field of battle". What I lacked in sports I made up for with poetry and singing.
It worked like a charm…and more than 3% of the time (hint: that's an impressive percentage in the marketing world). If only my shyness hadn't interfered with my follow-through…because I usually had something like a 98% approval rating. I couldn't reach the coveted 100% mark because…well…nobody's perfect.
Poets and writers need to eat, too.
A few years after high school I became a professional musician. Yeah, people paid me for live performance. Sometimes a lot…imagine that! And I got paid to play for years until I decided I didn't want to do it full time anymore. That's when I returned to my first love…writing. Only this time, I knew I needed something more lucrative than poetry. Fortunately, the internet affords poets and writers some great options for using writing skills to make money.
During my time as an entertainer I started writing and producing radio commercials. Then I learned copywriting, which is simply writing for business, and I've been doing both of these for quite a while now. I discovered how poets and writers can use their powers of persuasion and creative insight to ignite readers to take action. And when that action leads to sales, the payoff can be very rewarding.
When you're ready to ignite some action in your business, look no further than a poet to help. Well, at least no further than the poet you're reading right now anyway. Get in touch today and get started straightaway. (see what I did there?) Use the form on the side. You'll even get some great free stuff to get you going. And share with your friends and family by using any of the social media links below.
Stay tuned,