Music Pajamas Ebook For Kids
A few months back I shared the lyrics to one of my latest lullaby songs "Music Pajamas". It's part of the "Bedtime Buckaroos" collection of western themed lullaby songs. And now it's a picture book…one of my latest ebooks for kids on the Kindle platform on Amazon.com  Here's a picture of Meep, the lead character of the book…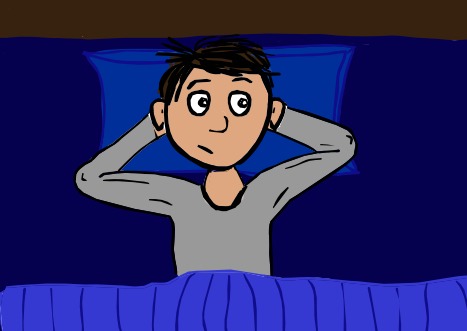 Meep's a kid who couldn't sleep because he thought the whole world would go away if he did. That's why I drew him so wide-eyed. I really had a good time building a story around the song. And it was fun to see the characters come to "life" in living color. I never thought of myself as an illustrator. To me, I was always a singer…a songwriter…a writer who didn't need or have time to draw.
Then, I decided to write books for kids, and I knew I wanted 'em to be picture books with short, whimsical stories. I figured the best place to start would be to write stories to go with my music for kids. And it seemed logical to have pictures to go with 'em. So, I decided picture books would be the ticket. Only thing was…I knew I wanted to get things moving along…and collaborating with an artist would most certainly take a lot more time. There'd be the initial discussion to convey my ideas, the first drawing, the follow-up evaluation and critique, the revisions, etc. etc. etc.
So…my solution? Why not get a digital drawing tablet, some software to go along with it, and give it a go myself.
That's what happened. And now I have 4 ebooks for kids, with about 17 more in the pipeline. "Music Pajamas" is the the third one I've published on the Kindle platform on Amazon.com.  I hope you'll check it out. If you do, would you please leave me a review there? Or leave me a comment here on my blog. It would help so much.
Stay tuned,


P.S.  Get my children's books on Amazon.com
Add my page on Google +
Like my fan page on Facebook
Follow me on Twitter
Watch my videos on YouTube