Great Is Thy Faithfulness
If you've been around a few decades, and you've gone to a Bible believing church, I feel pretty certain you've heard the old hymn, "Great Is Thy Faithfulness". And if you're young and think it might be too corny or old-fashioned to sing such an old hymn with a bunch of thee's, thy's, and thou's, it might interest you to know…Elvis Presley even sang this song.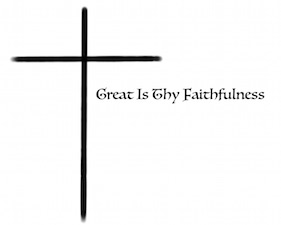 The lyrics talk about a living, loving Father who shows compassion to all who ask for it. In this song you'll discover a hope for each new morning which can only come from this God. He provides, and has always provided, everything we need.
Everything in nature, the seasons, the sun and moon and stars, provides evidence of the Great Designer. And they show His endless faithfulness, mercy, and love.
Your Creator has made an everlasting pardon for your many terrible mistakes available to anyone who asks Him. Anyone who asks with genuine repentance that is. And when you do, you'll receive the peace that endures forever because you'll receive the spirit of everlasting life from Jesus.
Remember this…God doesn't give you a spirit of fear. He gave you a "spirit of power, and of love, and of a sound mind". If you're not experiencing the strength and hope for a bright tomorrow, it's most likely because you're still depending on yourself or your things or something worse.
Here are the words and music to this old hymn. And I hope they bring you to a loving relationship with your Creator…or deepen the one you already have.
Great Is Thy Faithfulness
Great is Thy faithfulness, O God my Father;
There is no shadow of turning with Thee;
Thou changest not, Thy compassions, they fail not;
As Thou hast been, Thou forever will be.
Great is Thy faithfulness!
Great is Thy faithfulness!
Morning by morning new mercies I see.
All I have needed Thy hand hath provided;
Great is Thy faithfulness, Lord, unto me!
Summer and winter and springtime and harvest,
Sun, moon and stars in their courses above
Join with all nature in manifold witness
To Thy great faithfulness, mercy and love.
Pardon for sin and a peace that endureth
Thine own dear presence to cheer and to guide;
Strength for today and bright hope for tomorrow,
Blessings all mine, with ten thousand beside!

Podcast: Play in new window | Download
Tune In On iTunes Apple Podcasts | Android | Email | Google Podcasts | Stitcher | TuneIn | Spotify | RSS | More
Stay tuned…