Writing To Friends Used To Include Pen And Paper
When I was traveling and singing across the country full time, I used to keep in touch by letters. I was very good at writing to friends, and I didn't have any sort of "mobile" phone…let alone a "smartphone".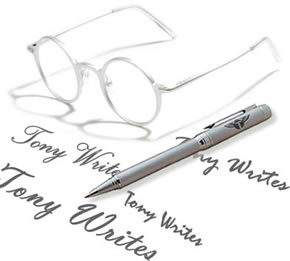 Nope, I used a pen and paper. And these wacky rectangular things called "envelopes". I know it sounds like crazy talk, but I wrote out each individual word by hand using cursive handwriting. I don't mean to brag, but I have very fancy schmancy handwriting. That little "Tony" in my newsletter signup picture is actually my signature…my real one. No kidding.
But I digress…
Back when I was writing to friends, I'd send them stories from the road, or greeting cards, or sometimes even some cassettes (you now what those are, right?) with my hotel room recordings of original songs. I didn't really get a lot of mail in return, but I guess the writer in me needed to write…so I did.
Very often I'd visit a place and then send out letters to my friends to let them know I was thinking of them even when I was enjoying experiences without them. Goofy, huh?
Well, below you'll see a short bit of prose I wrote when I was in Colorado for a short stint before I "got off the road". It shows what I'm talking about better than my rambling on about it here. Hope you like…
Mountain Thoughts
With my captured heart able to spread its wings
And soar in its homeland…
With my loving eyes able to soak in all the splendor
Of my mountain destiny…
With my dream all around me and the peace and happiness
That accompany it…
My thoughts still go out to my good friends.
My thoughts go out to you.
Tony Funderburk
October 14, 1987
Stay tuned…