Words And Music From Elvis And Golden
So, you're scratching your head and asking: "Words and music from Elvis and Golden?"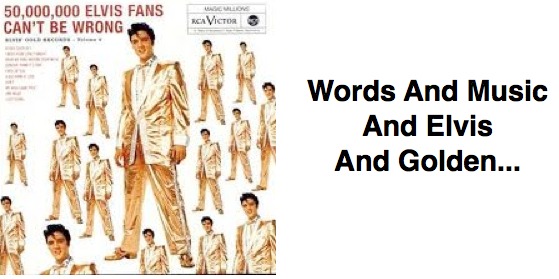 Am I right?  🙂
Well, did you know that on December 20th in 1957 Elvis received his draft notice for the U.S. Army? Yep, the King wasn't quite a superstar yet, but he was big enough for everyone to notice if he'd try to get out of it…or at least only do his hitch here in America.
But Elvis didn't try to get out of being drafted. And he didn't even ask to serve here in America. He just showed up for duty and served his full term. He did get a deferment to finish filming a movie, "King Creole" that he had already started. But other than that he was just a regular joe in da soivice.
So, now you're saying: "OK, Tony…I get it about words and music from Elvis, but what about Golden?"
Well, I'm glad you asked…
I'll be playing my own words and music (and some well-known hits from other songwriters) again this Saturday evening at the Golden Saddle in Golden, Colorado. A few people have let me know they'll be there, and I'd love to see a bunch more. Bring the kids. I have some songs kids love, and DeAnn, the owner of the Windy Saddle, has a cupcake walk for them each week.
That's all for now. You can check my "Live Shows" tab up at the top of this page, or see the "events" on my Facebook Page. Or wherever you find Tony Funderburk info online. Come on over to the "Saddle" this Saturday and help me get everyone in a festive mood for Christmas.
Stay tuned,


P.S.  Get my children's books on Amazon.com
Circle me on Google +
Like my fan page on Facebook
Follow me on Twitter
Watch my videos on YouTube