If you hang out with kids long enough, you're bound to get a question like…
"Why is the sky blue?"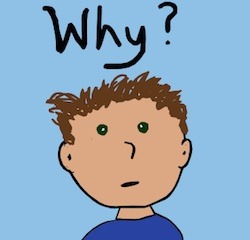 If and when you get a question like that, do you have a good answer? You could give a scientific reply with facts like how the blue light waves are shorter and therefore there are more of them visible as they get scattered on the air molecules all across the sky. That would be logical, reasonable, and sound.
Or you could give a fairy tale answer like…the angels dive into the ocean and get blue water all over their wings. Then they fly back back up and shake off the water and it floats all across the sky. Kids' imaginations will do the rest of the work. There's nothing wrong with this sort of explanation. It's fun. It's creative. And it gets little minds churning. Of course, it's a good idea to give them a "better" reason as soon as you can see they're able to understand.
But here's a third (and I believe most important) answer. The next time you hear "why is the sky blue?"…think of this rhyme:
Why?
Why is the sky blue? Why is the grass green?
Why is the sun gold? What does it all mean?
Why is the air clear? Why is the ground brown?
Why does the earth float and never fall down?
Cause God made skies. He made them blue.
He made the world for me and you
And all because it pleased Him to.
God loves us through and through.
Why is a horse fast? Why is a snail slow?
Why does it get cold when Northern winds blow?
Why is the sea green? Why is the sand white?
Why is the day day? Why is the night night?
Cause God made creatures big and small,
And sand and seas; He made them all.
And even if we trip and fall
God helps us to stand tall.
God's love is always there.
His love will never die.
And so you can trust in Him
For all your questions why…
Listen to the song "Why"

In Faith, Hope, and Love…