When things break…and they always do…what's the first thing you do?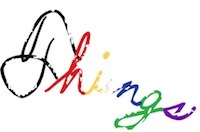 Are you immediately grateful to God when things break? Do you sing songs of praise and worship? Do you gather all your friends and have a feast and deliver up burnt offerings?
I'm gonna take a wild guess and say I'll bet you don't. And…
…that's OK. In fact, you can skip all those things and still consider yourself a Christian who loves the Lord. I'm not kidding. You really can. However (did you suspect there would be a however?)…I'd like to also suggest you don't just thank God when things are going well.
When your life is zooming along down the fast track, successful endeavors abound, and no one in your family is sick…it's easy…quite natural you might say…to skip any regular conversations with God. Have you ever found yourself doing that? I know I have. We humans (at least most American humans) tend to focus our attention on achieving, and when we are, we think we're good to go. It must have all been prayers answered. Right?
But what about those days or weeks or months or years when you find yourself being challenged from every corner and every angle? What do you focus on then? Well, if you're like most…the focus tends to be on the problem…and that makes the problem look huger and huger. Yeah, that's a word. Look it up.  🙂
I know, from personal experience in the past few days, that when things break, a problem can loom like a T-rex in the back of the brain. My Jeep began to run poorly, basically stalling out, last week when I was on a highway in the middle (or close to it) of nowhere. Turns out it was the catalytic converter. And to top that off I discovered the Jeep actually has 3 catalytic converters…2 called "pre cats" and 1 traditional "cat".
A friend trailered my Jeep to a mechanic a couple of towns away, and I was told a catalytic converter would be $1400…plus labor. And I was told it would take a week to even get the part.
I'm currently in a small town on the Western slope of Colorado where choices are few when it comes to parts. So, I began to be concerned that I'd be at the mercy of limited supply versus my impending demand.
However (there's another however) I remember this little thing (maybe you've heard of it) called "the internet". And after a lot of searching I found an excellent source in Houston, Texas called Discount Converter where a guy named Mark helped me more than all other sources combined. And the part was $388 plus $44 shipping. It got here yesterday, and I'll try to put it on today…because when things break…they have to be fixed.
I thanked God for the cheaper part, for the helpful sales guy, and for the wisdom to keep focusing on the solutions until I found one that worked. I didn't thank God for the broken parts or the lack of local assistance. But I realize that when things break, or when things are difficult…that's when we're given an opportunity to fill up our spiritual well with Living Water and go on.
What do you think? Am I right? Either way, here's a song called "Thank God"

Stay tuned…