What Is My Reward In Heaven
If I become or am a Christian…
then, when I die…
what is my reward in Heaven?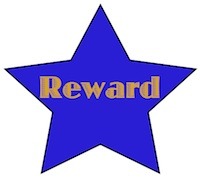 Maybe you've heard preachers talk about the verses like "in my Father's house there are many mansions…" or "indeed your reward is great in Heaven" or "knowing that from the Lord you will receive your inheritance". Ok, there seems to be a reward…so…it's a legitimate question to ask: "What is my reward in Heaven?"
First, let me ask you: What would you like? What sort of reward do you think you'd deserve if and when you get to Heaven? Keep in mind that eternity is a very long time. Time without end in fact. What sort of reward do you think you'd deserve that could last that long?
Here's how I see it. If I get a mansion in Heaven, I'm sure I'll love it, and it'll be the most awesome place I've ever lived. But I don't deserve it. If I receive some sort of seat at the table of importance, I'm sure I'll be glad to be there, but I don't deserve it.
I don't deserve any sort of reward. None. I haven't lived an exemplary life. I haven't brought millions, thousands, or even hundreds to the saving knowledge of Jesus. I haven't loved my fellow man the way I should have. And I certainly haven't lived a sinless life.
But one thing I did right.
I said yes to Jesus. I discovered the mountain of evidence that supports the truth of His birth as a human baby, His sinless life, His tortuous death, and His victorious resurrection. And I discovered how He did all that…for me.
He did that for you, too. Don't take my word for it. Look into it. If you can find where the Bible got it wrong…if you can find where the historical, manuscript, archaeological, and statistical facts are wrong, please let me know. But I believe, if you're honest in your study, you'll come to the same conclusion. Jesus really was and IS God.
What is my reward in Heaven? I get to see Him face to face and live with Him forever. I get to bask in His limitless glory and knowledge forever. And I will be completely satisfied if there isn't another reward.
In Faith, Hope, and Love…

P.S.  I really appreciate your support here on my website. Here are some other awesome ways you can keep my words and music flowing. Get my ebooks for kids on Amazon.com or Smashwords
Subscribe to my Podcast
Circle me on Google +
Like my fan page on Facebook
Follow me on Twitter
Watch my videos on YouTube
Subscribe to this blog