Have you ever read a book and gotten so involved you felt like you were right  there with one or more of the characters? You could almost smell the new-mown grass they smelled. Or taste the full-bodied espresso in that bistro with the colorful, unframed paintings of sunsets by a local artist. In other words your mind filled up with word pictures. Imagine, if you took a walk with Jesus. Or Paul. Or Peter. Or Luke. The invaluable insight you might get from a single stroll down a sandy path could change your life forever. Well, reading their written words is much like walking with the wise.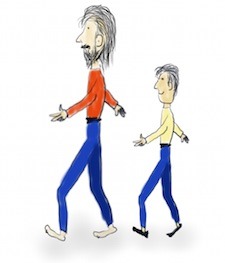 The books in the Bible were literally written by men. It's no mystery to say that's the way every book is written…by men, or women. The greater truth, though, is that the Bible was spiritually written by God. You can deny that at your own eternal peril, but the evidence is overwhelmingly bountiful and beautiful. And a consistent message God shares in His word is how you can BE wise when you're walking with the wise.
In my last article I wrote about getting wisdom (I shared a free song, too), and how it's more precious than riches of any kind. Maybe you're wondering how you'll know a wise person to learn from. Well, there are all sorts of indicators and valuable teaching tools found in the book of Proverbs. It isn't just a collection of "sayings". It's health down to your bones.
You'll find where seeking and getting wisdom can take you. And you'll discover some fairly drastic consequences of not getting it. For example, in Proverbs 13:20 it says "But the companion of fools will be destroyed". Yikes. That's getting right to the point, don't you think?
The writers, whose words you read in the Bible, don't simply give you an ongoing list of how to prosper, thrive, and have a "purpose-filled life". They also show you the grit, the failures, the destruction of those who choose to deny their own Creator…a destruction brought about by their own choices, not the Creator.
Just so you know…you're not destined or predestined to hell. You're also not destined or predestined to Heaven. Read the writings of Paul, the "apostle to the Gentiles". Take a walk with this wise man who called himself "chief among sinners". You'll discover how your good deeds will not win everlasting life…and your sins will not condemn you to everlasting torment. You were created by God, and He's made His love abundantly available. I urge you to start drinking from that Living Water and eating that Bread of Life. It's not too late while you still have breath in your body.
Stay tuned…