I've always enjoyed kiddin around with kids.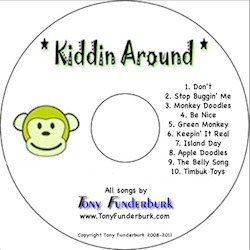 And they seem to get a kick out of it, too. That's why I wrote a whole CD of zany funtime music for kids and called it "Kiddin Around".  It starts out with a song called "Don't". How many times have you heard one kid telling another one that? Or how many times did YOU have to say it to a brother or sister? My song "Don't" takes a different turn, though. The lyrics contain a list of things you don't do. But they're things you can't possibly do. Listen to the song and you'll see what I mean.
Next song on the CD is called "Stop Buggin' Me"…another staple of words kids say to each other…wouldn't you say? It's usually said a few times before Mom or Dad says "Timmy…stop buggin' Janie." And of course it often gets replaced with "I'm not touching you…I'm not touching you."  🙂
Third song on the CD talks about "Monkey Doodles". There are a couple of meanings behind this one…but you'll have to give it a listen to venture a guess. Here's a hint: if you've lived in Evergreen, Colorado for a long time, you may know one of the meanings.
Fourth song on the CD seems like a good fit. It's called "Be Nice". If only that came naturally for kids. But then…what would parents do if their kids were always nice. Wouldn't life be too boring?  ha!
Then comes "Green Monkey". This is one of 6 songs on the CD that were written specifically for a purpose other than just making kids smile. But I won't reveal what that purpose is. It gives the songs an air of mystery…don't you think?
After that we have "Keepin' It Real". It has a couple of my favorite lines that talk about what's truly important to a little kid:  "I'm the center of the universe…but I'm hypnotized by my mother's purse…"
"Island Day" is the 7th song. And I put it at number 7 for two musical reasons. One has to do with a Sting song…the other has to do with the movie "Papillon". That's all the clues for that…
Number 8 is sort of like number 3 (hmm…literally and figuratively). After all they both have doodles. You don't have to clean up after "Apple Doodles". It doesn't even melt on the minivan seats.  🙂
Next to last we have "The Belly Song". It talks about where we all were once upon a time…something no human should ever forget or take for granted.
Last, but not least there's "Timbuk Toys". I hope it doesn't sound braggy of me…but I love the bass line and the sort of African background vocals. Listen to it and see if you agree with me.
Well…there's a little background into my songs on the Kiddin Around CD. The lyrics will be available on my brand new lyrics page before long. Be sure and check out the demo of that funtime music…and don't forget…Christmas will be here before you know it. Just sayin'…
Stay tuned,


P.S.  Get my children's books on Amazon.com
Add my page on Google +
Like my fan page on Facebook
Follow me on Twitter
Watch my videos on YouTube