Get The Rhyme and Reason Podcast Delivered, Free Apple Podcasts | Google Podcasts | Spotify | Amazon Music | Android | Pandora | iHeartRadio | Stitcher | Podchaser | Podcast Index | Email | TuneIn | Deezer | RSS | More
From here to Timbuktu. You've heard that expression or something like it. Right? Well, I'm not gonna give you a history lesson on where the expression originated or if it's even a real place. But it DID inspire a toy store in the Denver area.
And so, Timbuktu also, in a roundabout way, inspired a song.
It's one of the 10 fun and silly songs in the Kiddin' Around collection.
When CD's were still a "cool" way to get music, we sold thousands of them through several kids' stores across Colorado. One of those stores was named Timbuk Toys. And I wrote a song by that same name to motivate the store owners and employees to keep the CD's in stock.
It worked well. And they sold a bunch of 'em for us.
But these days, CD's have sort of fallen out of favor with most music lovers. So, I created another way you can get these fun songs for kids AND give them a lot more. I published the Kiddin' Around Singalong, Coloring, and Drawing Book on Amazon.
Inside the book your kids get the lyrics to all the songs in the collection. AND they get coloring pages. AND they get blank drawing pages. PLUS they get a super secret link (which you can help them with) to a free download of all the songs in the book. Here's a clip from "Timbuk Toys"
You can even scan the QR code you see at the top of this page, or in the video or below to go right to the page, on Amazon, where you can order a copy today.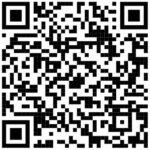 And next time you find yourself in Timbuktu, don't be surprised if you catch yourself humming the Timbuk Toys song.
My, my what a stroke of luck…
When you wind up in Timbuk.
Everything that a kid enjoys…
Play all day with the Timbuk Toys.
© 2007 Tony Funderburk
If you're not a scanner type of person, here's your easy, friendly link to the book.
Get your special, silly kid the Kiddin' Around songbook today.
Stay tuned,