This Singer Songwriter Is Not Cool
I know this may tarnish my image as a world-class cool singer songwriter forever, but I'll say it anyway…
I've never done drugs…not even pot.
Whew! There. I said it. I can see my subscribers fleeing to find another much cooler singer songwriter to follow. G'bye everyone. I hope you'll come back some day. Please don't tell anyone else what you've read here today. That's all I ask.
OK…why did I never do drugs? (for anyone who may still be here and reading) Well, I can't take the credit. I give that to God. Thankfully I connected with Him when I was 13, and I wanted to do things and live life in a way that pleased Him. Don't get me wrong…I didn't succeed all the time…far from it. But during my teenage-mind-of-mush years I did pretty well. At least well enough to stay away from the substances that would have changed who I was.
After I became a professional musician and singer songwriter I had lots (and I mean lots) of opportunities to partake…especially pot and cocaine. I remember a time I was playing a very popular spot in Atlanta, Georgia. A very nice looking girl came up to me when I was on break, and said "follow me". OK…I'm a guy, so I did. We went into another room where she pulled out her cocaine and offered me some. It felt really weird. I said "no thanks" and that I had to get back to work. And lots of times guys would come to tell me how good they thought I was. They'd shake my hand and there'd be a doobie in it. Yeesh. If they only knew how I'd go flush it down the toilet. 
Back in the 80's these things were commonplace in the circles I played. So I wrote a song about it. If you're an email subscriber, you'll get my original hotel room recording mp3. This is it…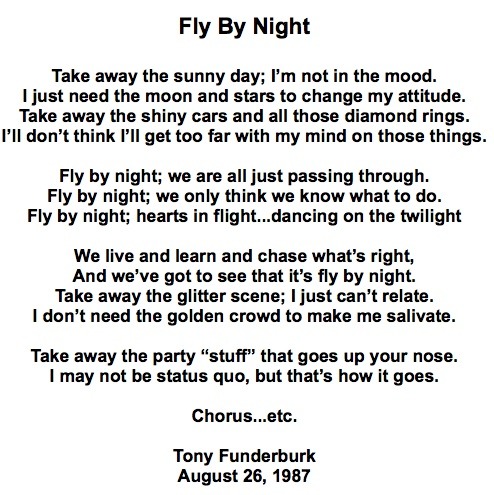 Stay tuned,



P.S.  Follow my singer songwriter tweets on Twitter
Like my singer songwriter fan page on Facebook