Science has shown us the earth revolves around the sun. So, scientifically speaking…there is no such thing as a sunrise. But for those of us who know we were created by a living, loving, artful God…the sun does rise.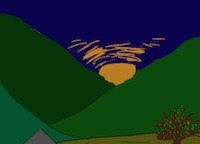 A sunrise is a metaphor, an allegory, or even a simile. It's how our creative minds "see" things. Either as we'd like them to be…or as they appear to be. In both cases you get a sense of the imagination forged into our spirits. God didn't have to give us imagination. He could have merely designed us to see whatever He preferred us to see…to perceive only those things which He deemed necessary for survival.
But God loves. Not that silly Hollywood love that's here today gone tomorrow. His is a real and enduring love. And our imagination is an intangible proof of His love. We can not only think with logic and reason, but we can also imagine and create worlds of our own. We can soar into the skies, dive into the depths of the oceans, paint rainbows in the leaves of trees, and even rise above whatever physical limitations we may have.
What about you? Where will you let the gift of imagination take you today?
When the sun does rise,
And it surely will,
We will run straight to
The aroma hill.
We will pluck one rose
From its thorny vine,
And refresh our lips
With a sip of wine.
We will find delight
In the sweet bouquet
Of this flowered hill…
Of this brand new day.
It will be a feast
For the nose and eyes,
And it all begins
When the sun does rise.
Stay tuned…