Is There A Pure Place In This World?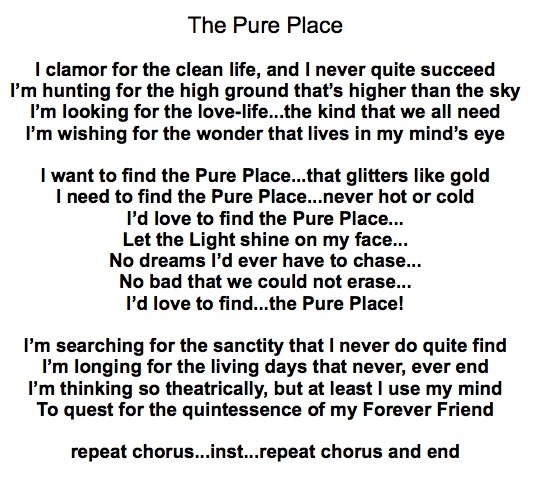 I love alliteration, and I use it often in my songwriting. It seems like a natural fit to the way a voice and words go together.
In my song "The Pure Place" you'll find alliteration in every line except two. And there's a reason those two lines don't have it, but I won't go into that. In the first line you'll see me clamoring for the clean life…and never quite succeeding. I used "clamor" because I think we need to be louder in our protests for getting back to the "clean life". A life not so filled up with profanity and sexual innuendos. And we should clamor for this even if we never quite succeed.
And, of course the "high ground that's higher than the sky" is merely a reference to my connection to Heaven.
Notice I didn't say A love-life…I said THE love-life we all need. A love-life with your wife or husband or kids or other family or friends is great. But it's temporary. And it doesn't give you eternity. THE love-life can only come from your Creator. Look into it. You might thank me one day. 🙂
"The wonder that lives in my mind's eye" is merely the dreams of paradise…and I wish for that even in the midst of this current reality.
The Pure Place that "glitters like gold…never hot or cold"…where the light shines on my face and there's "no dreams I'd ever have to chase" and "no bad that we could not erase"…  These are more references to eternal life in Heaven; the paradise our Creator has made for those who love Him.
The reason I'm "searching for the sanctity that I never do quite find" is that I'm a flawed and fallen mortal in need of a Savior. So my sanctity can only be found in Him…but thank God for that because I fail daily in my efforts to be better…to myself and my neighbor.
Even though "I'm longing for the living days that never, ever end"…I know how wonderfully blessed I am to be in this life here and now. It's a gift. And the more I can keep my mind around the idea of the gift the more I can enjoy this glorious life in this troubled world.
"Thinking so theatrically" is a metaphor for wishful thinking…or…daydreams…but I qualify it by adding that I also "use my mind" (acknowledge what's real, too). That way I can "quest for the quintessence of my Forever Friend".  That's another way of saying I seek the perfection of Jesus.
So…there you have the story behind the lyrics to my song "The Pure Place". I hope you enjoyed it, and I'd love to read any comments you have.
Listen to "The Pure Place" using my streaming music player there on the left. Just scroll down till you see the title and click on it. The whole song is there to listen to for free.
P.S.  Follow my singer songwriter tweets on Twitter
Like my singer songwriter fan page on Facebook
Watch my videos on YouTube
Subscribe to my iTunes podcast