The mind of God – probably not what you think
It's all part of God's plan. How many times have I heard that…from Christians? And it makes me cringe. Every. Single. Time. They've fallen for the Platonic view of God rather than what God actually says about Himself in the Bible. He reveals His nature over and over, throughout the Bible, and it's nothing like Plato described. The mind of God contains everything any of us will ever need for life, love, and happiness. But talking about what God does or doesn't do…or what God knows or doesn't know…divides Christians faster than lightning divides the night sky. (If you prefer to listen rather than read, here's the Rhyme & Reason Podcast episode 229)


Get The Rhyme and Reason Podcast Delivered, Free Apple Podcasts | Google Podcasts | Spotify | Amazon Music | Android | Pandora | iHeartRadio | Stitcher | Podchaser | Podcast Index | Email | TuneIn | Deezer | RSS | More

Before I go any further I'd like to ask you a question. You know Plato wasn't a Christian…right? Quite the opposite in fact. He was a pagan Greek philosopher. Yet, he influenced one of the biggest Christian influencers, Augustine. And that influence was so strong that Augustine interpreted the Bible based on what Plato said about God…instead of what God said about Himself. That's a YUGE problem.
The mind of God isn't revealed in Greek philosophy.
It's important to know that your one, true, living, loving Creator (aka God) designed you to be an awesome reflection of Him and His nature. But (and this is a big BUT) He didn't decide, before the foundation of the world, every thought you'd think, every word you'd say, or every action you'd take.
God took a gigantic risk and let you have your own will.
Some would say that didn't turn out so well. Of course, I'd disagree. Because having your own will means you get to make your own choices. And making your own choices means TRUE love is a distinct possibility. Sadly, it also means true hate is a distinct possibility. But that's a necessary and possible consequence of free will.
The Greek philosophers, like Plato, said if God is perfect, then He can't change in any way. According to them, that would take away from His perfection. Their silly claims say God is:
Impassible (He has no passion)
Immutable (He never changes)
Impeccable (He's unable to sin)
But the mind of God IS revealed in His Word and it's not like those claims.
If God, Himself, told you He loves, or that He changes, or that He resisted all sin, would you believe Him? Or would you prefer to believe what pagans say about His character? I hope you choose God's word on the subject instead of Plato's. When you do, you'll discover love beyond comprehension. Mercy and care beyond understanding. You'll discover the Creator who CAN be moved and affected by your cries for help and your prayers of thanksgiving.
The horrible things that happen in this world are absolutely NOT part of God's plan. He's not working evil things together toward some "greater good". In fact, He says don't do evil that good may come of it. And He's a good Father. So, He wouldn't tell us to do as He says and not as He does. Some of the most despicable and vile things we humans have done never even entered God's mind. That means He certainly didn't plan them.
The good news is…because God DOES change and love and feel emotions, you can have an awesome relationship with Him. A real relationship. Not make-believe. One that can last forever. He wants that for you. But He won't force it on you, if you don't want it. My hope for anyone who doesn't already trust Jesus to be The Way, The Truth, and The Life is that they'll change their minds while they're still breathing here on planet Earth.
If that's you, I promise you'll love discovering how you're here because you came from the mind of God.
Here are the lyrics to the song included in the Rhyme and Reason Podcast 229
Consequential Servitude
God looked down on me…
He knew I was wrong
Usurped my position
I held for so long
Yeah, He just took over…
Where my brain left off
He knew it was risky…
He knew they'd all scoff
Sometimes I'm so stupid,
And so often blind…
Trade reason for feelings;
Mistakes underlined
And so again; I behold the outer man
Through God's condescending attitude,
And I defer to the perfect Architect
And this consequential servitude
He spirals His thoughts…
Through my barricade
He knows I am feeble…
Yet hands me His blade
He tells me to rise up…
From my Phoenix blight
He builds me a fortress
Of conquering Light
When my clay is brittle…
And crumbles to sand
I long to be putty…
In my Master's hand…
And then I can behold the inner man
Through God's condescending attitude
Because He chose me as His dwelling place
I choose this consequential servitude
There were no incantations, no hallelujah chorus
He succumbed to His detractors; withstood an inquisition…
And then commended His spirit, relinquished His position,
And then He died a death that was for us!
Repeat 1st verse and 2nd chorus…end
© 2001-2018 Tony Funderburk  1/21/2001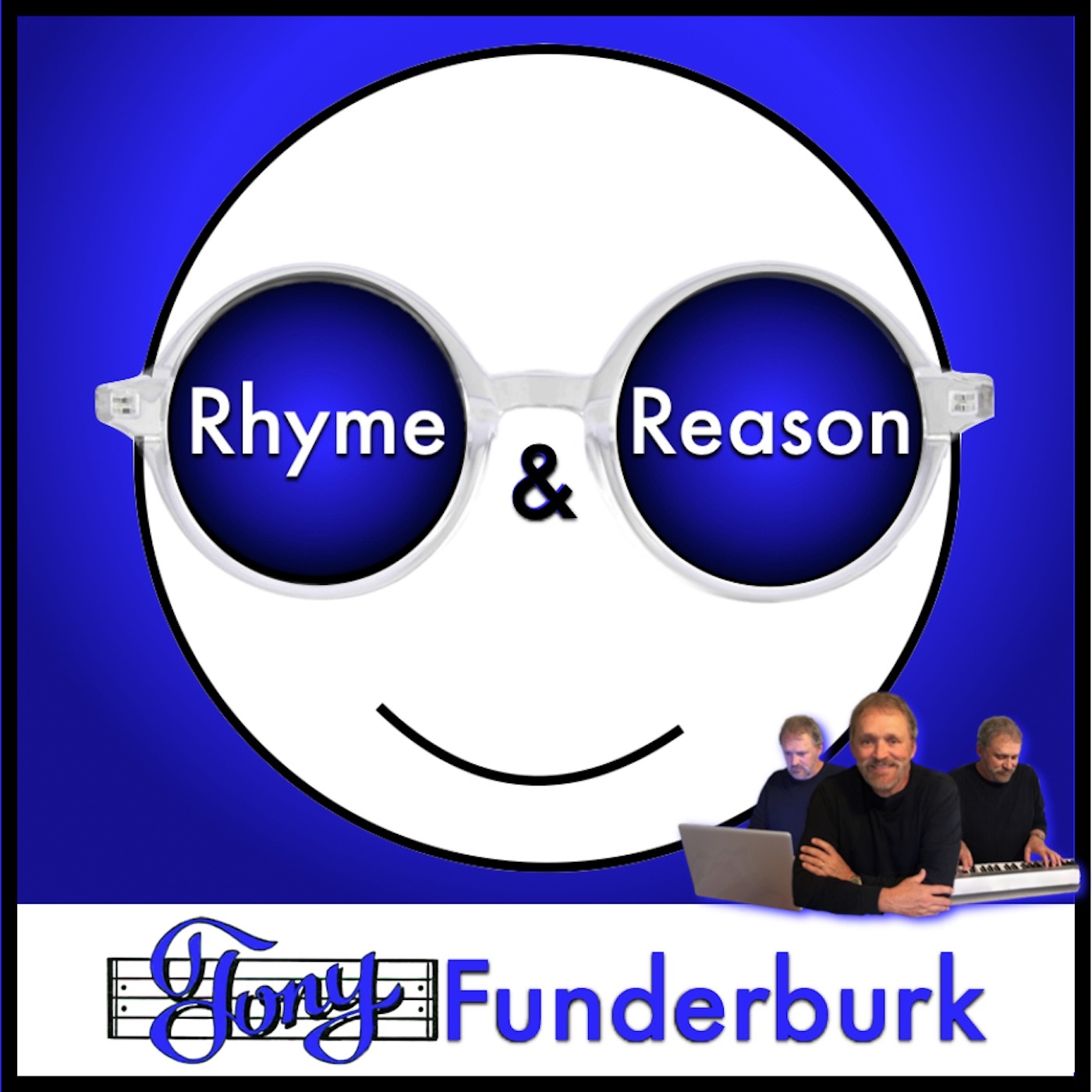 Rhyme and Reason with Tony Funderburk
Tony Funderburk
In each episode of the Rhyme and Reason Podcast, Tony Funderburk shares how life makes sense because God made you. He's the author and publisher of 34 books for adults and kids and a songwriter with hundreds of songs to his credit. Get some free songs and a book for kids by jumping on the <a href="https://www.tonyfunderburk.com/bandwagon/">Rhyme and Reason Bandwagon</a> today.
Stay tuned,