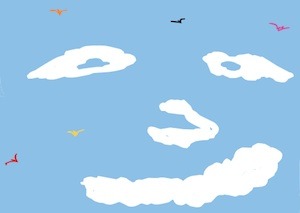 Maybe you've heard someone on the news say something like, "OK, we go now to Dave in Copter 6. He's the eyes in the sky for traffic and weather reports."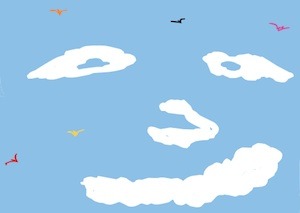 Well, I heard something like that early this morning, and it made me think of a short Rhyme Time poem to share with you. It's just pure imagination, but it shows another example of how a writer can use words to make a picture.
Have you ever seen clouds that looked like something else? You know…like an elephant, or a fish or a woman in a hat? Or maybe you saw a puppy chasing a rabbit. Or even a giant mountain. Well, the next time you're looking up at the clouds to see what you can see…try to find the eyes in the sky. See if you can see clouds that look like they're looking back at you. If you do, take a picture and send it to me. I'll post it here in Rhyme Time.
Did you see the eyes in the sky?
They were looking down from the clouds.
They could see the world going by,
And they sprinkled tears on the crowds.
Were there really eyes in the sky?
Did I just imagine it so?
Do you think they could really cry?
Maybe yes, but probably no.
If you see the eyes in the sky,
Wave and wink a butterfly kiss.
Soon they'll float away on a sigh.
You'll do well remembering this.
Stay tuned,

P.S.  I really appreciate your support here on my website. Here are some other awesome ways you can show your support, keep my words and music flowing, and keep me off the streets.
Get my ebooks for kids on Amazon.com
Subscribe to my Podcast
Circle me on Google +
Like my fan page on Facebook
Follow me on Twitter
Watch my videos on YouTube
Subscribe to this blog