A thank you letter
It's weird (and annoying) how my mind works (or doesn't) sometimes. And what I'm talking about is how I've been meaning to get to this thank you letter every time I've opened my text editor for a week. But instead I'd write and talk about something else. And now another week has passed without me saying it. So…

Here's the thank you letter you deserve.
And for those of you who might have landed here for the first time, I've just gone through a balloon sinuplasty surgery. And that was after dealing with a respiratory issue for over two and half years. But it took that long to figure out what was going on. So, it has been more of a struggle than I ever imagined I'd endure when it first started back in 2018.
That being said…a lot of people have prayed for me. And that means more than you'll ever know, this side of Heaven. Because I know wherever two or more are gathered, in prayer, God is there. And I know He hears our prayers.
So, thank you so much for adding me to your thoughts and prayers. I'm honored and humbled to think how many people did that.
And the good news is, I believe I'm on the mend now. Since the problems included my lungs, it will still be some time before I get back to my normal self. But I believe I can do it now that my head is clear and able to fight off infections.
Now, what I'm really looking forward to is getting my singing voice back. Because I wanna start writing and singing songs to help you stay up and motivated. For the ongoing battles of life. And the ongoing struggles against a world that increasingly doesn't want people like you and me around.
So, let's stay strong, and let's smile.
And let's commit to being here awhile.
And let's be well, and let's pray
For the strength we need as long as we stay.
We'll be fine, and we'll win
Because we know who's living within.
Yeah…we'll win.
Stay tuned,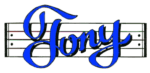 Get my Rhyme & Reason Podcast delivered (free) right to your player.
My books are also on Amazon.com or Apple Books
Grab yourself a cool tee
Or how about some music for kids