Are you willing and/or able to supply what is lacking in others?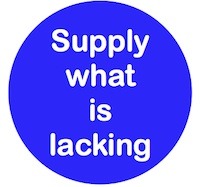 That's not a question that requires any false humility because we're actually called by God to supply what is lacking in the lives of others.
Think about it…if you're a parent, you do this daily. Your children would be lacking nourishment, nurturing, cleanliness, shelter, and a giant list of other things if you didn't supply them. If you're married, your husband or wife would be lacking so many valuable gifts of love, honor, and devotion if you didn't supply them. OK…I think you get my point.
Paul wrote to the Philippians in chapter 2:25-30 about "Epaphroditus, my brother, fellow worker, and fellow messenger" who he was going to send to them in his place. As far as I can tell, Epaphroditus was only mentioned twice in the Bible…once when Paul was sending him…and once when he returned to Paul with a message from the Philippians. Yet it's easy to see in only 5 verses how dedicated Epaphroditus was and how willing he was to supply what was lacking in their service. Paul even said Epaphroditus was "the one who ministered to my need", and this appeared to be in spite of the fact that Epaphroditus was "sick almost unto death".
This was a man with a servant's heart…a man who followed the example Jesus had shown the apostles when He washed their feet even as He was facing certain death. The more I dive into the love I find in Paul's writings, the more I see it provides me with the Truth I need to supply what is lacking in the hearts of hurting humans.
This doesn't mean they'll listen or take heed…but that shouldn't deter me from offering it. What about you? Are you studying to show yourself approved? Are you ready to supply what is lacking in someone's life and ready to offer up proof for the hope that lies within you?
In Christian Love"

P.S.  I really appreciate your support here on my website. Here are some other awesome ways you can keep my words and music flowing.
Get my ebooks for kids on Amazon.com or Smashwords
Subscribe to my Podcast
Circle me on Google +
Like my fan page on Facebook
Follow me on Twitter
Watch my videos on YouTube
Subscribe to this blog