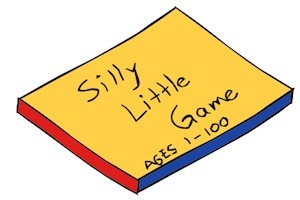 When my brother and I were kids, there were no video games, no personal computers, no smartphones or any other kind of phone you could take with you…and no internet. So, a lot of times when we were looking for something to do, we'd make up a silly little game.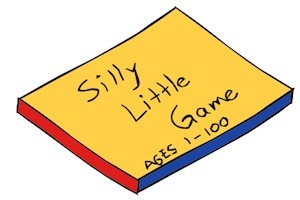 Sometimes we'd see how many bounces it would take to get a tennis ball into a trash can. Other times we'd get our 5-speed bikes out, find our friends, grab some bats and a tin can, and we'd all play our own version of polo. Not too smart because almost every time someone would get a knee or shin banged by a bat. But c'mon…we were young kids. What did we know? It was fun anyway.
Other times, when rainy weather came around, we'd think up a silly little game with our collection of toys. Like one time I remember taking an electric car I had gotten for Christmas…and my brother's giant tank he'd gotten…and we had battles to see who's toy had the most power. I don't remember who won, but we had fun.
What about you? Have you ever come up with a silly little game that made no sense but was a lot of fun? If so, share it with me. I'll let everyone else know.
Today we're gonna play a silly little game.
To play you're gonna need a silly little name.
So I'm gonna call you Silly Little Sy
No matter if you're a girl or a guy.
Then you have to look at your silly little friend.
They can be real or you can pretend.
Now look at your friend with a silly little face…
Tell them you're thinking of a silly little place.
They have to think up a silly little thought
That might describe your silly little spot.
If they get it right, smile a silly little smile.
If they get it wrong, run a silly little mile
In a circle on the floor in a silly little way
And just have fun all the silly little day.
OK, that's the game you Silly Little Sy.
You might be asking a silly little "why".
Remember I started with a silly little claim…
It's all for fun…this silly little game.
Stay tuned,

P.S.  I really appreciate your support here on my website. Here are some other awesome ways you can help keep my words and music flowing.
Get my ebooks for kids on Amazon.com
Subscribe to my Podcast
Circle me on Google +
Like my fan page on Facebook
Follow me on Twitter
Watch my videos on YouTube
Subscribe to this blog