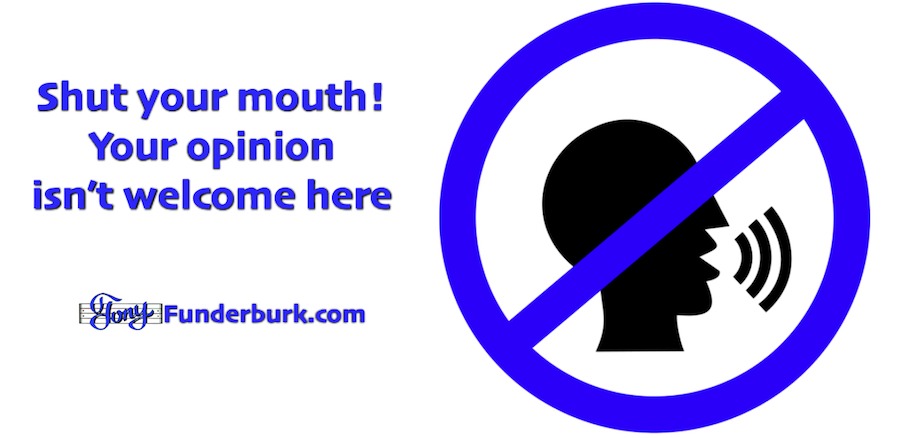 Shut your mouth and tolerate
If you wanna make sure more bad things happen in the world, shut your mouth. And put down your pen and keep your hands off the keyboard. Just keep your narrow-minded, hard-hearted, and "religious" opinions to yourself. Otherwise, how in the world are you ever gonna learn to tolerate more and more anti God rhetoric and behavior? Huh?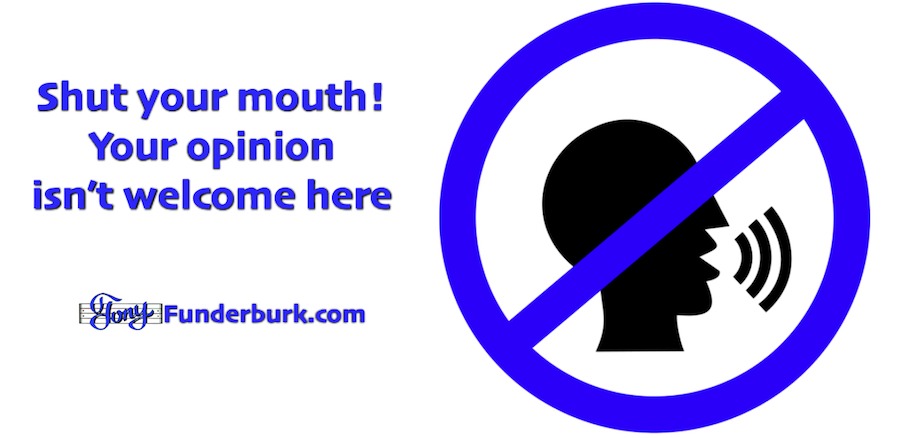 There's a huge amount of evidence that if you are a Christian…and if you have a tendency to stand up for what the Bible actually says…you're gonna be censored. Not tolerated by those who shout "tolerance" and "diversity" in the public square. Your Christian opinions aren't (and won't be) welcome in the world of so-called "multi-culturism". You'll simply be ostracized with labels like bigot, racist, misogynist, homophobe, and the list goes on. So what are you to do? Simple…
Shut your mouth.
Yeah, it's that simple. Just shut your mouth, put down your persnickety pen, and keep your hands off the computer keyboards. In other words, keep your thoughts about Jesus, God, and grace to yourself, and you'll be an acceptable member of society. Ha!
Don't believe that for one minute. Let me use my own timeframe here on planet earth as an example of why I say that. I've lived long enough to see a gigantic shift in American ideology. When I was a little boy growing up in Oklahoma, Kansas, and Texas, I remember hearing and seeing Christian influence even in public schools. Yes. Public schools! Then, in 1962, the so-called "supreme court" ruled on a case that effectively banned prayer from public schools. My own school, in Texas, still allowed prayer at assemblies, during the morning announcements, and at all sports activities. I challenge you to find that happening at 99.999% of schools today.
When you read the article in the link I just provided to that court decision, you'll notice that "not a single Christian organization filed a brief in support of school prayer". So, that proves that keeping your mouth shut leads to keeping the peace. Right? Wrong. All you have to do is dig a little bit into the news and you'll discover how far down the ragged rabbit hole this has taken us. And all we had to was…
Tolerate.
Interestingly enough, you won't find the word "tolerate", or any form of it, in the Bible. That doesn't mean for one minute we should never tolerate others who don't think or believe like us. That's impossible to do anyway. Every day you'll have to tolerate the growing hatred towards Jesus and His followers. But that doesn't mean you should shut your mouth and never speak up for your Creator. Quite the contrary.
Now, more than ever, it's important for Christians to come to the aid of their country…their world. God's enduring promises, mercy, and love need to be common knowledge in every nook and cranny. And you have awesome tools at your disposal. Share your thoughts and God's word in every way you can, and you can literally broadcast it to the world via the internet. But I suggest you do it now…before God haters make sure Christians are banned from the internet.
Do you believe that could never happen?
You wanna live the way you wanna live.
And you wanna be your own king.
You think you're wise enough to rule your world
And handle everything.
But how much happiness is in your life?
How many friends do you know
Who would give up their lives to give you yours?
Do you think any would show?
(excerpt from "You Just Don't Get It"…listen for it on the Rhyme and Reason Podcast)
Stay tuned,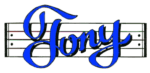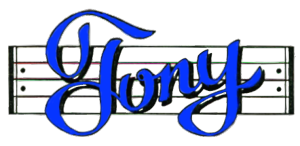 P.S.  Share the rhymes and reasons with your friends and family. And let's stay connected. Like this…
Join my Rhyme and Reason Club
Discover my ebooks on Amazon.com or Smashwords
Subscribe to my Podcast on iTunes – OR Google Play
Connect with me on LinkedIn
Circle me on Google +
Follow me on Twitter
Watch my videos on YouTube
Find me on Facebook
Or use the social media links below