Words And Music About How I See The Light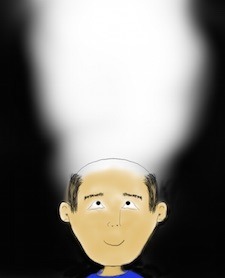 When you can see the light of God's love shining on you, there ain't no dark. And there ain't no black hole in your heart…ever again. But it requires some faith on your part. However…it's not like the blind faith required to believe in evolution or some other silly notion of our origin. Faith in God is substantive. There is more evidence proving His existence than there is to prove yours.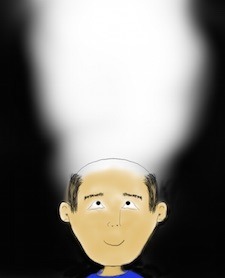 When I see pessimism, anger, selfishness, public lying, government thievery, and so many other of this world's troubles, I know what's missing.
God.
If you believe what's "right for you" or what's in your heart is (or should be) the ruling force for your life, you're going to experience darkness on an epic scale. It may not come today or tomorrow, but it's coming.
I can't imagine a life without the Creator of Life. I hate to think about what a dismal battle I'd have with my own consciousness, if I thought I only had a dark nothingness to look forward to at the end of this life. But maybe that's just me. Maybe I'm just one of those dorky people who wants there to be eternal hope. So maybe I'm just fooling myself into believing there's a living, loving Creator God.
Maybe…
…but maybe the overwhelming evidence I've found is true. Maybe my faith isn't misplaced. Maybe this living, loving God I'm always writing and singing about really exists. And maybe He's made a beautiful way for me to live forever. Maybe I really do see the Light of Truth because it's real.
If that's true…and I'm staking my eternal destiny on it…then I can only die once and where I'm going is paradise because…
There Ain't No Dark
Pessimistic inclinations; oh statistical emotions
Don't try it, don't buy it
It won't look good anyhow
Problematic imperfections…oh they're fishes in the oceans
Just face it and erase it;
You could change the whole world now
There ain't no dark when you can see the light
And there ain't no black hole in your heart
Prepare your eyes for the never-ending sunrise
There ain't no…there ain't no…there ain't no dark
Artificial illumination; oh perpetual solutions
Don't make "˜em; don't take "˜em; they won't get you anywhere
Symbolism over substance; wise up to that old pollution
Take it higher; chase the liar; show the world you really care
Chorus
No matter what they do or say
You and I can win today
Just live like there ain't no…
"˜Cause there really ain't no dark
© Copyright 1993 Tony Funderburk
Here's the recorded version of this song. I recorded it in a small room with poor acoustics on an analog 4-track machine. I take full responsibility…

Get The Rhyme and Reason Podcast Delivered, Free Apple Podcasts | Google Podcasts | Spotify | Amazon Music | Android | Pandora | iHeartRadio | Podchaser | Podcast Index | Email | TuneIn | Deezer | RSS | More
Stay tuned…