Are you able to rejoice always?
I believe most people who have ever known me for a while would tell you I'm an "up" person. Generally speaking I'd rather laugh in the face of adversity. And generally speaking…I do. There's a place in the Bible where it actually says to "rejoice always", and then it immediately adds…"pray without ceasing, in everything give thanks, for this is the will of God in Christ Jesus for you." These are three things you never fail to do…right? Yeah, me neither.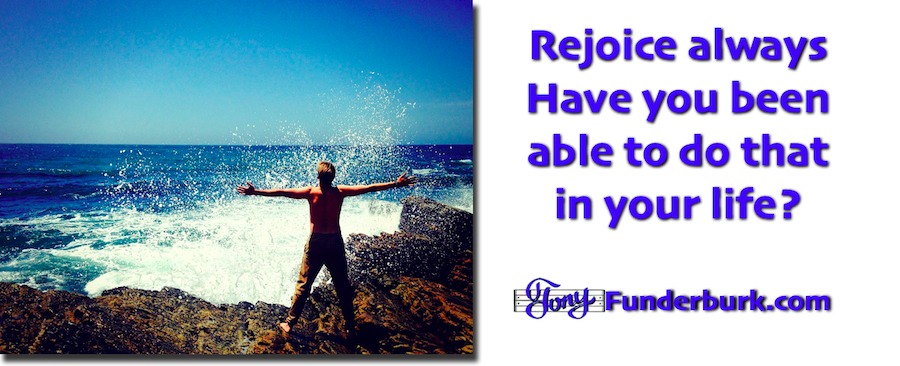 I'll let you in on a little secret…I don't rejoice always. I want to. And many, many times I succeed. But then the world gets in my face, and my rejoicing stops…at least for a little while. You might think, by reading the many happy-go-lucky rhymes and lyrics I've written here on my website, that I'd never have any problems leaning on God in times of trouble. It's easy to rejoice when things are going well. But that's not a good representation of where your heart and mind are. It's when times get tough that you'll know where your trust and faith truly are. I'll break down that Bible verse, I shared with you a few lines ago, into three parts and show you what I mean. First…
Rejoice always.
Why would God inspire someone to write that if He knew it was impossible for you to do? The short answer is…He wouldn't. Your Creator knows you better than you know yourself. And if He says you should always rejoice, He knows it's something you're able to do…if you only will. So will you? Can you make it an act of your will to rejoice, when your day, week, or year go horribly wrong? Yes…you can. But will you? I seriously doubt you'll be successful every time. Or that you've been successful rejoicing your whole life. I don't want you to think I'm jumping on your case. Like I said, I fail too. Last year, 2016, was a horrible year for me. And each time something went wrong, I had an opportunity to either choose to rejoice anyway…or choose to justify my gripes and grumbles. I'll admit there were times I did some of that justifying. And here's why. I didn't…
Pray without ceasing.
Nope. I didn't do that. I prayed often. And I prayed with passion and conviction. But I didn't pray without ceasing. Of course, that doesn't mean you go through your day doing nothing but praying. God knows you have responsibilities and work to do. It's an illustration of mindset…an encouragement to not let a day go by without talking to the One who made you, loves you, and wants to hear from you. God wants to build up your courage and strength. He wants to help you. But He won't force His help on you. If you want to do everything entirely on your own, He'll let you. However, He also knows you'll mess things up without Him. And you'll start to gripe and grumble. That's when you'll forget…
In everything give thanks.
Now, don't even start to think I mean you should thank God for all the bad things that happen to you. That would just be stupid. First, He didn't do those bad things to you. And second, He wants only the best for you. When bad things happen, it's because either you made some bad choices…or you're suffering the effects of a broken world and the broken people in it. But you should give thanks in the middle of everything that happens because it's your chance to let God know you trust and love Him. You're thanking Him for the life you have and the strength and courage to face another day. After all…without Him you wouldn't even exist.
The reason bad things happen is because people would rather serve self than to serve others. And they certainly don't want to serve God. They want to be like the god of this age, who is not the one true, living, loving God of all creation. Selfishness is the root cause of everything bad in this world. And you certainly can't accuse the God of the Bible of selfishness. Only the Biblical God sacrificed Himself for the world. The rest of the religions require you to do all the work. Jesus came to earth as a man and paid the ultimate price for you to have eternal life. Don't you love that? If so…
Rejoice Always
Rejoice…
Through the days of milk and honey.
Rejoice…
Even when your days break down.
Rejoice…
Troubles will not last forever.
Rejoice…
And forget about that frown.
Raise your vibrant, vital voice
'Cause today you've got a choice.
Rejoice!
Stay tuned,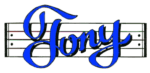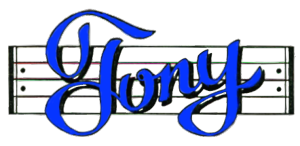 P.S.  Share the rhymes and reasons with your friends and family. And let's stay connected. Like this…
Join my Rhyme and Reason Club
Discover my ebooks on Amazon.com or Smashwords
Subscribe to my Podcast on iTunes OR Google Play
Connect with me on LinkedIn
Circle me on Google +
Follow me on Twitter
Watch my videos on YouTube
Find me on Facebook
Or use the social media links below