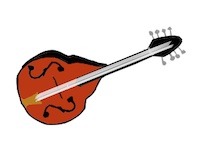 As many of my friends, through the years, can attest…country music isn't my favorite. Now, before you jump on my case…give my "Bedtime Buckaroos" lullaby songs a listen. You'll see that I not only play some country music…I even write some. And that brings me to my subject for today. I think it would be fun to be able to play the mandolin. I'm pretty sure I won't take it up, but it's a very cool sounding instrument.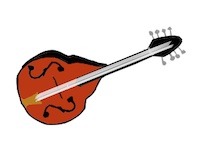 Of course, in my whimsical world of words not only have I learned how to play the mandolin…I've also flown across the face of the earth, talked to a wide variety of animals, and even listened to colors. So, it's only natural I'd take up and learn an instrument I'll never actually play in the real world. Does that make sense?
I can remember a day, way back in 1973, when I heard a guy play the mandolin in a song that was anything but country. The song didn't twang. It didn't talk about trucks or beer or hangin' out down by the river. In fact, it was a nice, jazzy instrumental piece where each player had a chance to solo. The mandolin solo was so impressive I dreamed up a scenario where my lover was a mandolin teacher. Don't ask me where these ideas originate…I'm just a silly daydreamer who lets his thoughts lead the way.
Anyway…here are the words. It's not a song, so even if I could play the mandolin, I wouldn't be playing this for you…
My Dear Taught Me To Play The Mandolin
I wish you would turn the lights out
And put a record on.
We could sit on the sofa side by side
And listen to it till dawn.
I'm not a real fine warbler,
But I can keep the pace.
The songs we play are how I feel,
And it shows on my face.
Do you remember back in August
When we sat all alone
In a room filled with tunes
That rang like telephones?
We were poor…we didn't care
To be another way,
But here we are a couple of stars.
It's quite a different day.
I'm glad you taught me how
To play the mandolin my dear,
'Cause if I hadn't learned it,
You'd be without me here.
© Copyright Tony Funderburk 1973
Your whimsical writer,