It was July of 1975. And I was a fairly new piano player. Because I had started teaching myself the way around the keys about a year and a half before. So, as the scales and chord combinations started to make sense I naturally wanted to put some of my large catalogue of lyrics to music. And one of those songs was Performance for Sara.
I gotta say…Performance for Sara was epic!
And that's just because I wanted an epic composition. Not because there was an actual Sara. In fact, I never had a girlfriend with that name. I just always liked it. And it seemed to fit the mood of the music I composed.
So, this wasn't just a song. It was music to go with the movie in my head. And, as I look back on it now, I see so much I'd do differently now. But that's a good thing. Because it means I've learned a lot since then. And I've gotten much better at my craft.
I don't have a recording of it. And I don't have all the instrumentation in my head anymore either. Because it's been over three decades since I last sang it. But I can hear the melody in my head. And I can still bring that up for my own nostalgic pleasure…if and when I want.
But for anybody else who's interested, I can only share the words. And a picture of my original hand printed lyrics…which are even dated. Here you go…
Performance for Sara
This wind could pacify the sea.
This breeze could calm the roar.
For azure thoughts were always mine,
And I'd seen this wind before.
Serenely passing through the trees,
It whispered something new to me.
It said to me a lady's name,
And it was Sara, my heartfire's flame.
Her name brought life into the stars at night,
And, by her, the black inside me could
Be changed back into white.
For the life of Sara
Is the love of Sara,
And peace could be had in her eyes.
She could look at me,
And such things I'd see.
She's as perfect as the wind that pacifies.
For azure thoughts were always mine,
And I'd seen this wind before.
I'm a roving romantic; a spectacle,
And it's Sara that I perform for.
© 1975 Tony Funderburk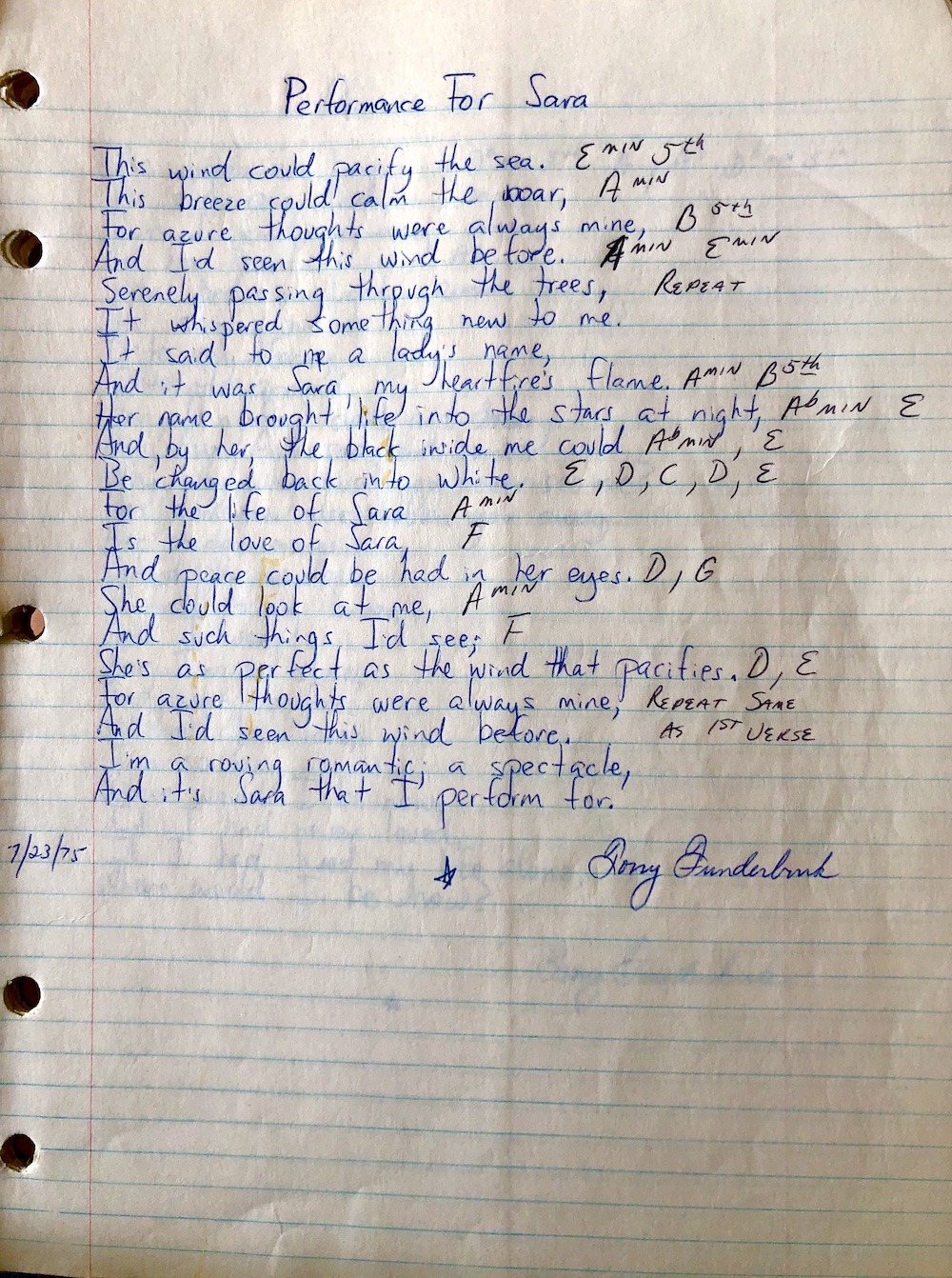 Stay tuned,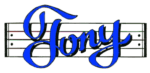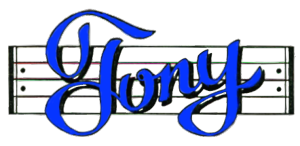 Get my Rhyme & Reason Podcast delivered (free) right to your player.
My books are also on Amazon.com or Apple Books
Grab yourself an un-cool tShirt
Or how about some music for kids