The snow is falling here in the Springs today. And it's cold. But it's beautiful and pristine. If you've ever spent much time in a place where it snows, you understand the quiet beauty I'm talking about. The snow cushions and insulates the roads so car tires don't make so much noise as they pass. All the little critters seem to take refuge in their nests and caves and beds. So there isn't the usual chatter, chirping, whistling, and scampering. It's cold and void…and peaceful and serene.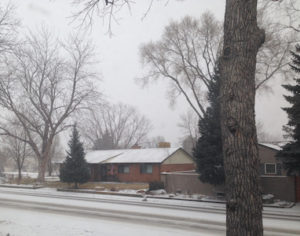 Life can be cold and void, too. It can drop frozen flakes of indifference and apathy on your head and shoulders with a consistency that sometimes boggles the mind. When it does, do you find yourself griping and complaining? Or do you remain peaceful and serene?
I'm sure there are people in the world who don't believe in God and yet manage to keep a level head in the midst of trials and tribulations. They've simply learned to take it in stride…just part of their own "evolution". But I'll wager you this…
…their peace and serenity is superficial.
And here's the real kicker…even if it's genuine and runs to the core of their being…it's temporary. Apart from God, all "happiness" and "success" is temporary. It will die out when the body gives out.
I'll admit to you I don't remain peaceful and serene in the face of adversity. Not all the time anyway. Anytime I fail, I can easily see where I was leaning on good ol' Tony. And Tony can't hold me up all the time. He gets tired.
God never gets tired.
If you already know this, take a couple of minutes to thank Him right now. Thank Him for holding you up, and let Him know you realize He's doing that as He's holding millions of others up at the same time. Yep, God never gets tired…and He never gets tired of hearing you thank Him in love.
When you get through thanking Him, go enjoy a peaceful and serene hot beverage and look out your window. Maybe you can send me a hello wave.
Stay tuned…