Note to Self: focus on what you do best
After receiving some info from a friend about "it"…and discovering some more info about "it"…and even watching some videos about "it"…I've made a note to self that says what they all say. Focus on what YOU do best. And for what it's worth to those of you who don't care about music, or to those of you who've never even liked my music…what I do best is write, sing, and write songs. There! I'm not taking it back. And I'm not gonna let the world talk me out of it anymore.
For those of you who'd rather listen than read, here's the podcast…
Podcast: Play in new window | Download | Embed
Tune In On iTunes Apple Podcasts | Android | Email | Google Podcasts | Stitcher | TuneIn | RSS | More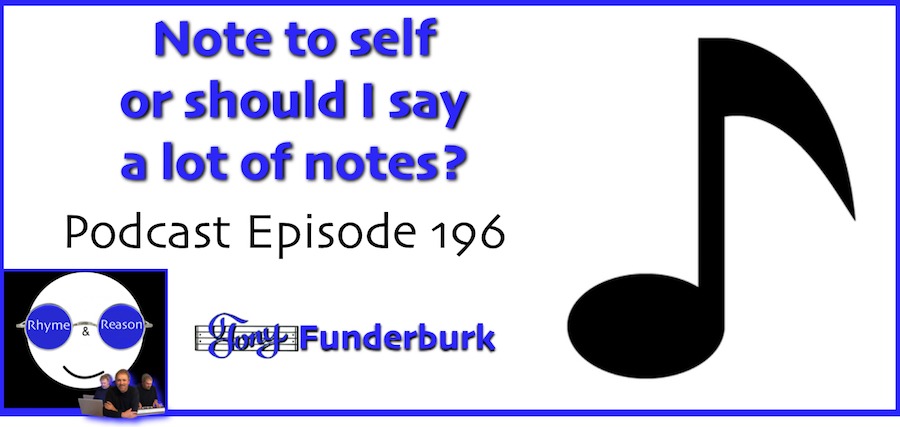 In the past week, I've listened to…
A guy talk about his jet he bought for his business
Another guy talk about why he bought a coffee shop
Another guy talk about how his businesses made over $700k in one day
And still another guy talk about the "tons of money" he spends outsourcing work
Let me assure you I think it's awesome what each of those guys have been able to do. Listening to them didn't make me envious. It inspired me to step up my own game. In fact, after each talk, I'd make another note to self. And when I looked back at my "notes", they all pointed to the same thing. I let my dreams slip away…and probably right when I shouldn't have.
Now, I can honestly say I haven't completely given up on my dreams. But I can also say I haven't pursued them with the intensity and purpose I should have. Especially since technology can take me so much further toward them than people like me in past generations could go on their own. I've just allowed outside forces to influence me and nudge me toward self-doubt. And I mean doubt about selling the products of my gifts and talents.
Have you made a mental note to self like this lately?
Is there something you're not doing you know you should? Or maybe something you ARE doing that you shouldn't? Man, that's been me. I've been my own worst enemy for way too long. And if you're like me, let's not fret too much. We're in good company. Paul, the "apostle to the Gentiles" struggled with doing what he didn't want to do and not doing what he DID want to do. Why does that happen?!
For a Christian, the answer is simple…even though it's not always easy to admit or overcome. Sin. And to put it more bluntly…the sin of selfishness. Yeah, when I focus on ME, I tend to do the things I know I shouldn't do while forgetting those things I should be doing. And on the opposite side of the equation…when I focus on helping others (which includes focusing on my own gifts and talents and how they can help), I tend to love my neighbor as myself. Not to mention (although here I am mentioning it) I get a lot more good and right stuff done.
And on that NOTE…
The whole reason I began sharing this with you is to announce a big plan of mine for 2018. Hard to believe it's less than three weeks away. "What's the big plan?" you ask. Notes. Not post-it notes. And I don't mean that Apple app either. No, I'm talking about those 7 different tones (or notes…and notice how both words use the same letters?) found in a musical octave. I'm gonna do something YUGE in 2018. It's about songs. And you don't wanna miss it because right now it's a plan…a challenge. And I might fall on my face and fail. You wouldn't wanna miss that would you?
So, be sure to subscribe to my Rhyme and Reason Podcast where I'll be sharing more about this big, musical adventure. In fact, the Rhyme and Reason Podcast is the only place where you'll get to see me fall on my face. Or succeed and amaze the listening world! Be sure to make this note to self: Don't miss it. Here are the lyrics to the song I shared in this week's podcast…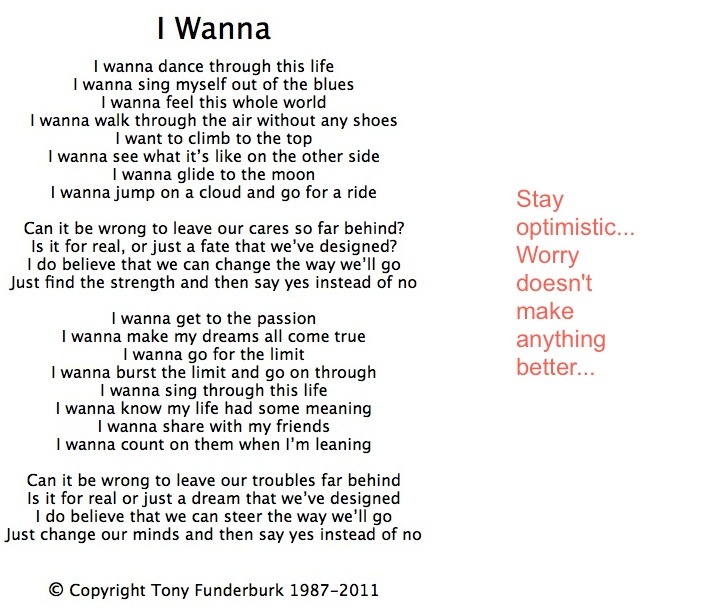 ---
If you believe life makes sense, and you want the world to know why, then share my rhymes and reasons with your friends and family, and let's get The Word out. Like this…
Join my Rhyme and Reason Club
Buy and read my ebooks on Amazon.com or Smashwords
Subscribe to my Podcast on iTunes – OR Google Play OR Player.fm
Connect with me on LinkedIn
Circle me on Google +
Follow me on Twitter
Watch my videos on YouTube
Find me on Facebook
Or choose any of the social media links below
Stay tuned,