A Singer Songwriter's Feeble Note To God
If you could send a note to God and know He's receive it, what would you say? Or ask? Or wonder?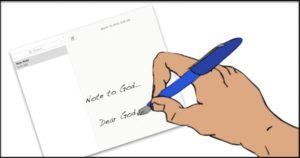 Have you ever sat down to write something and had no idea what you were gonna say…or why? I have a theory about that. I believe it's your subconscious desiring to speak to God. Even if you don't believe He exists, He still created you. And He wants to have a relationship with you. And I believe the knowledge of this is written on the tablet of your heart.
Of course…this is just a theory of mine. You can make fun or ridicule me for being another one of those Christian simpletons. But I believe you'd be missing out on the best your life has to offer. Why not, instead, write a note to God today. Say or ask Him whatever is on your mind. Not in anger or with self-righteous attitude. Just simple curiosity. Ask Him to speak to you. I believe He will.
Justice (a note to God)
I put the pen to paper to pay homage to
One I can't possibly do justice to
I want to say words I don't know…
Somehow express the inexpressible…
Let emotions carry the ink into the patterns
That form the words that say what I feel.
I think to myself, "This will be the time.
This time I'll release the hidden thoughts
To convey to You what I feel deep inside."
But each time I begin a valve shuts off…
A nerve is blocked, or the atmosphere increases
To weigh down the process.
All the good intentions don't translate or migrate to paper.
One fragile word does not inspire the next,
But I will continue to try…
To try to do You justice with mere words.
Who knows? Maybe someday I'll overcome this void
And write You a masterpiece…
Who knows?
© 1986 Tony Funderburk  (August 1)
Stay tuned…