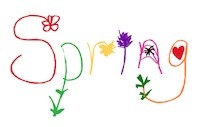 I'd like to take just a few minutes to tell you about my lover today. And before you jump to any conclusions…this is a G-rated website, and it's a G-rated article.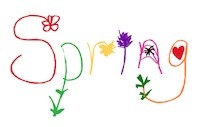 In recent posts here on TonyFunderburk.com, I've been sharing the whimsical writer side a lot more. And I've been sharing poems/songs I wrote from way back into my teen years. In fact, the Potato Chip Song I shared with you came only a few days before this next poem. I didn't write actual dates on either one, but I know it was in the middle to late part of 1973 or early 1974. Today's words must've been written just as winter was turning into spring because "my lover today" is a season.
If you've been following my blog for a while (first, thank you), then you may remember me saying that Autumn is my favorite season. It is, but of course who doesn't love spring? Right? I'm just as happy about the leaves and flowers coming back as the next person. After many cold days it's so nice to be able to open windows and let spring breezes blow through. It was just that sort of day that inspired me, all those years ago, to say that particular spring was…
My Lover Today
Wind blowing through snowflake hills,
Ice castle all crumbling down.
Winter, in silence, is gone.
I watched it go with a frown.
Then, with a sigh, I remember saying good-bye
To Autumn the very same way.
Spring opens its eyes and mine.
There is a new warmth in the air.
Skies once clouded with flurries of snow
Now seem to be blue and fair,
And, with a sigh, Winter quickly passes me by,
And Spring is my lover today.
The seasons are lovely today…
Make my heart sing, make my thoughts cling
To wondering
If things will ever
Change me into Summer.
Let me be your flowers.
We can be a painting, if we don't get sad and…
Then, with a sigh, I remember drying my eyes,
Watching all of the seasons pass me by.
© Copyright Tony Funderburk 1973
Your whimsical writer,