This is something I haven't done much of…or in a long time. But I'd like to share some music recommendations.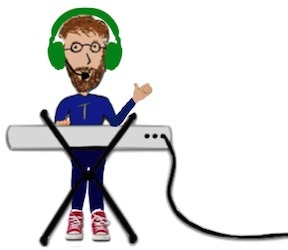 The following songs and musical artists are people I've…
Worked with before or
Shared a stage with or
Connected with on social media or
Discussed music and shared road stories with
The first act I'd like to mention is a duo. I remember meeting them in the Houston, Texas area back in the early 80's when they and my brother and I played quite a few of the same establishments. I guess both acts being duos had a little something to do with it. They call themselves "Trout Fishing In America". Yep, that's the name of the act…not a song or album. They always had a folksy and wry wit. And it seems they've done something similar to me. They've stayed connected in the music business and have written children's songs. So, without further ado, here is the first of my music recommendations…
It's a Puzzle – Trout Fishing In America
Next is a young woman I've been following on YouTube. Her mom follows me on Facebook, and she pointed her out to me a few years ago. I'm really glad because Sara Niemietz is the sort of singer I wish other "stars" would be. She's real, polished, and she puts music out front…not sex and vice. Check out the following EP, and my personal favorite on it is "Dangerous Outside".
Push Play – EP – Sara Niemietz
The last of my music recommendations (this time around) is by a very nice singer songwriter, Michael Johnson. I think his biggest hit was probably "Bluer Than Blue", and that song got me listening to more of his offerings. One night, back when I was on the road full time, I happened to be playing a nice little room in a hotel in Aberdeen, South Dakota. Michael was staying in the same hotel, and, by chance, he came down and caught my act before he went to sound check for a concert. He was touring with Eddie Rabbitt, and they were in town for a couple of nights. On my break he came over and talked to me about one of my originals I had played. He said he really liked it, and that I ought to consider going to Nashville as a songwriter. That was really cool, and I never forgot it. Did I go to Nashville? Hmm…
Anyway…check out Michael Johnson's hits, and I'll see you soon.
Classic Masters: Michael Johnson – Michael Johnson
Stay tuned…