If you're one of those people choosing to go your own way…even into the eternal future…the message of the cross (found in Christian teaching) probably sounds silly to you.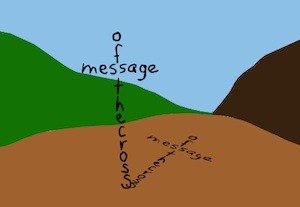 Maybe you think Christians are fools to follow such "antiquated teachings". Well, here's a shocker for you…you're right!
You're right…if Christians are wrong. Let me put it this way. If I'm following a worldview based on myths and legends and out-of-date information…if I'm dedicated to a lie…I'm a fool. And I'll just have to deal with the consequences of following this silly ideology.
But here's the catch. The opposite is true, too. If you're dedicated to a worldview that's in opposition to Christianity…and if Christianity proves to be true…then you're the fool.
The message of the cross is simple. "For God so loved the world that He gave His only begotten son, that whoever believes in Him shall not perish, but have everlasting life." Let me share my simple-minded take on that. I believe it's true. I want it to be true. I need that Truth.
So does every other human being on the planet. They just don't all know it…or, for that matter, seem to even care. Most people aspire to attain their own "perfection"…their own "paradise"…their own salvation. They believe they'll achieve enough "wisdom" to do so.
My recommendation is this…don't waste your life in quest of perfection. Instead, seek the One who IS perfect and has made a way for you to live with Him in paradise forever. Don't waste time looking for signs and wonders. Instead seek a relationship with your Creator…a relationship overflowing with love.
What's the worst that could happen? Seriously…let me know what you think is the worst that could happen?
In Christian Love…

P.S.  I really appreciate your support here on my website. Here are some other awesome ways you can keep my words and music flowing.
Get my ebooks for kids on Amazon.com or Smashwords
Subscribe to my Podcast
Circle me on Google +
Like my fan page on Facebook
Follow me on Twitter
Watch my videos on YouTube
Subscribe to this blog