Would You Call Me A Madman Across The Water?
When I graduated high school, my brother bought me a graduation gift that helped change the course of my professional life. He gave me an album by Elton John called "Madman Across The Water". It wasn't the first time I had listened to Elton John, but it was the first album I spent a lot of time getting to know inside and out. That's when albums were lavishly covered and filled with lyric books, photos, and more. Here's the cover…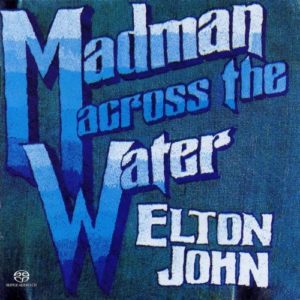 You might say "Madman Across The Water" is where I cut my pop/rock vocal teeth. From the first song, "Tiny Dancer" to "Levon" to "Razor Face" and the title track on the first side…to "Indian Sunset" and "Holiday Inn" and "Rotten Peaches" and "All The Nasties" and "Goodbye"…the arrangements piqued my musical interest. And Bernie Taupin's lyrics sealed the deal.
After that I decided to teach myself the piano (on my mom's old upright) and see if I could maybe write my own songs.
The rest is, as they say, history. I've never had, or ever will have, the singer songwriter career Elton John has. And I don't agree with his lifestyle. But I still enjoy many of his earlier songs. And I'm grateful that his music inspired me to take up an instrument and start writing.
So…today I'm sharing a cover song, something I don't often do here on my website. It's a song I've sung so many times and one that almost always brought me wonderful response from audiences. I hope you'll enjoy it, too. This is the first song off "Madman Across The Water".
It's called "Tiny Dancer".
Stay tuned…
[mc4wp_form]