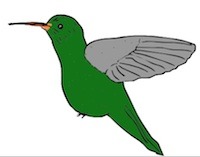 Nothing moves quite like a hummingbird.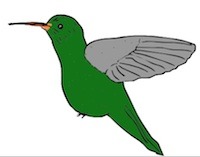 Here in Colorado, it's getting to that time of year when we'll hear them go buzzing by in the back yard. Sometimes they move so fast you only hear 'em. But then sometimes they hover right over the deck or yard and seem to be perfectly content to give you a good, long look. They're beautiful little birds. One of my favorites, and in case I didn't mention it before I love birds.
One time, back in 1979, I used the quickness and agility of a hummingbird as an analogy for love. What do you think? Is it a silly analogy? Feel free to share your thoughts.
Anyway…I'd like to share those words with you now. They haven't been openly shared with anyone in over 30 years. But that's why I've been adding a lot of my old works to my entries here on TonyFunderburk.com. Maybe they'll inspire, calm, or reflect someone.
Moving Like A Hummingbird
Smell the freshness of the morning air.
Hear the morning bird's sweet song.
Just forget the things you've got to do.
Throw them all aside and come along.
Love is moving like a hummingbird…
Never landing in one place.
If you're quick enough, hold on.
I know you'll find a place.
Learn all about the strength of gentleness.
You've always held the power in your heart.
Don't let the negatives deter you now.
To let go now would tear your life apart.
Love is moving like a hummingbird.
Drink of the nectar it provides.
If you desire, it will stay awhile.
Try now to softly close your eyes…I know…
You'll find the secret place it hides.
Love is moving like a hummingbird.
Let me ride upon its back.
Take me to the place of happiness.
I'll go, and maybe I'll never come back.
© Copyright 1979 Tony Funderburk
Till next time…