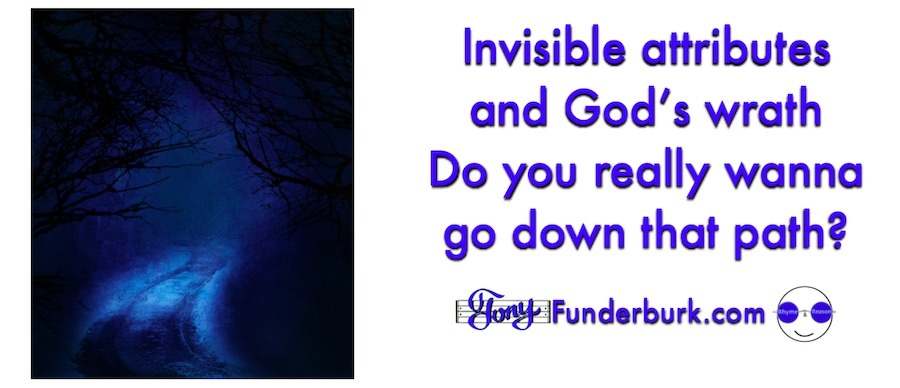 What do invisible attributes
have to do with God's wrath?
How can you see something invisible ? I mean, after all, it's invisible. Right? So, what in the world did the apostle Paul  mean when he said God's "invisible attributes are clearly seen"? And if we can't see invisible things, why would God's wrath come down on anybody who doesn't see them? It's all so confusing. Except…


Podcast: Play in new window | Download
Tune In On iTunes Apple Podcasts | Google Podcasts | Spotify | Android | Pandora | iHeartRadio | Stitcher | Email | TuneIn | Deezer | RSS | More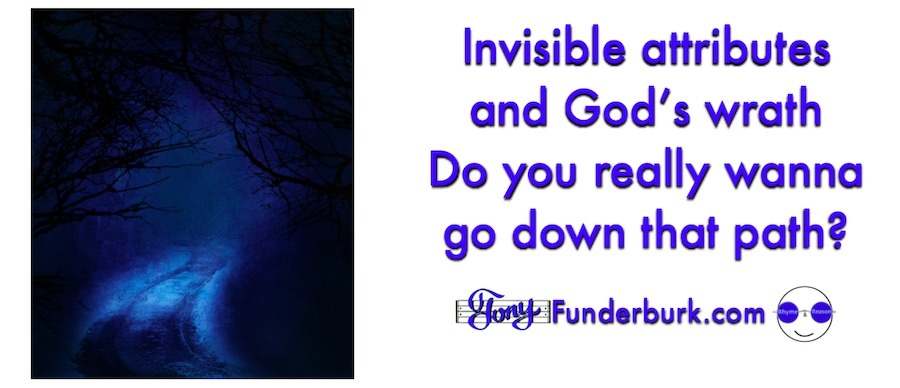 It's not confusing when you open your eyes to Truth.
I know millions of eyes just rolled up in millions of heads at the mention of Truth. But it's a self-affirming statement to say truth exists. It's even self-affirming to say absolute truth exists. (Gasp!) Think about just a couple of things for a minute and see if you agree.
DNA is complicated. True or false?
The sun emits light. True or false?
The earth contains the exact type of oxygen humans need in order to breathe. True or false?
If you're honest, you answered "true" to all three questions. I could come up with literally thousands more. But I don't have time nor the inclination to do so. Just know (and learn to be comfortable knowing) there are millions of things you can say are true. And just about as many you can say are absolutely true.
So what does this have to do with invisible attributes and God's wrath?
God inspired Paul to write how "His invisible attributes are clearly seen, being understood by the things that are made." Hmm…the things that are made? Those things include you and me. And everybody else. But the vast majority of people, on this beautiful planet God made, would rather thumb their noses at the thought of a Creator God. They'd rather say things like "We created God in our own image in order to feel more secure". Or "You Christians created a God because you need a crutch."
Most people would rather believe in aliens from another planet in a galaxy far, far away than the One who created the whole universe using only His words.
Imagine you created a beautiful gift for someone you love. Now imagine you give it to them, smiling…eager to see the look of appreciation on their face. And now imagine they give it back to you saying, "You didn't make this. I don't want it."
Can you imagine how hurt you'd be? OK, let's take it a couple of steps further. Now, let's say you give your loved one all kinds of proof that you DID make the gift. You even show them the style of workmanship you always use. But the more evidence you show them, the more they don't want it. You might eventually even get mad. Right? Well, that's exactly what most people have done, and are doing, when it comes to God.
Rejecting God and His Truth will only get you His wrath.
God won't force you to see his invisible attributes in the creation. But don't become a fool by worshiping the creation instead of the Creator. He'll let you come up with your own gods and create images for them like a man's body with the head of a ram. But don't do it unless you're prepared to defend yourself when, one day, you're face to face with God. And if you're gonna be honest, you gotta admit at least the remotest possibility of that happening.
After all…isn't it true that you might be wrong? Because if you're never wrong, then you might be God. And then your claim that He doesn't exist goes out the window. Oh, it's all so confusing. Except…it's not.
Be sure to jump on the one-of-a-kind Rhyme and Reason Bandwagon today and get my latest words, music, and voice delivered to your inbox instead of having to come looking for them all the time.
And share with your friends, family, and other business owners. Don't keep this good stuff all to yourself.
Stay tuned,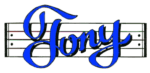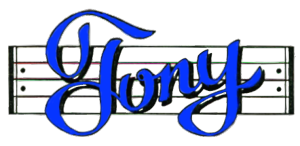 Subscribe to
Rhyme and Reason with Tony Funderburk
Or subscribe with your favorite app by using the address below