It's easy to see how young people can linger in darkness and angst. The world is full of it, so why shouldn't they be? I remember, back when I was only about 19, how I thought writing about the struggles in life with a "dark" tone would show how "deep" I was. Yeesh. I can read my old notebooks, now, and clearly see how shallow and inexperienced I was. Thankfully, I've come out of that darkness and into the light with my writing. But I cherish each feeble poem and song I wrote back then because they were all sharpening my pen, my thoughts, my perspective.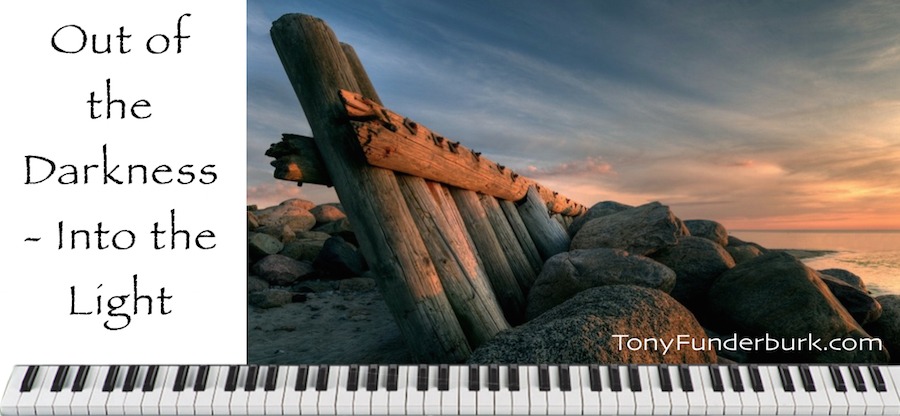 Many times, as I was learning to write, I'd ask my friends to give me a word or a phrase with the promise that I'd write them a poem using what they gave me. Some were easier than others. Some proved to be pretty darn cool. Others proved to be…well… not quite as cool. One of those appeared when a friend gave me the word "desideratum". What?!
I had never even heard of that word. But, like any good student of language, I looked it up. I won't tell you what it means. You should look it up, too. Once I had the meaning, I thought about how it applied to a story I had just read. So, I want you to know, the following poem isn't about me. I've never had such dark thoughts. I'm grateful to God for helping me into the light of love at the young age of 13. But that doesn't mean I didn't still write "dark" stuff. If you've ever felt what this poem describes, write me and let me know. I'd love to help you see that your feelings are temporary while your existence is not.
A Sea That's Gone
I watched the sea;
Lonely, lonely,
Lonely desideratum to be
A part of it.
The splashing waves:
Crushing, crushing,
Crushing desideratum behaves
Like a child.
I tell it to stop,
But it keeps returning.
It will surely kill me…
This nonsensical yearning.
I could jump off these rocks,
Let the sea come take my life.
But I wonder if that would
Truly end my weary life.
My desideratum once was to live,
Now it's to die…
To give for take
An eye for eye.
I lost a sea
I used to keep
Inside my heart
Perhaps too deep.
Now I think
I need the same…
To live without
I'm just a name.
© 1974 Tony Funderburk
Stay tuned,