Will Your Last Home Be In The House of the Lord?
It's a great and reassuring feeling to know I'm gonna live in the house of the Lord forever. I wish everyone could know that feeling and understand how important it is not to throw life away. But the vast majority of human beings would rather BE god than TRUST God. And so they'll exist forever, but they won't LIVE forever. Do you know the difference?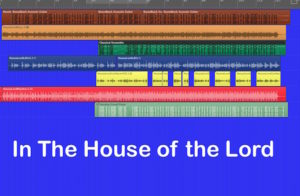 One of the most famous and well-known verses in the Bible is Psalm 23. King David is credited as the writer of this Psalm, as well as many of the others. Maybe I relate to a Psalm more closely because it's basically a song. Being a songwriter I look for the rise and fall of the verse…the rhythm of the syllables, the possible layers of meaning.
In Psalm 23 I found the inspiration for one of my own Praise and Worship songs. Read the verses from the Bible I've inserted below. Then check out my lyrics below that. I think you'll see a direct connection. Then, I'd love for you to listen to the song. There's a link to it next to the lyrics title. See if it speaks to you. And let me know…
The Lord is my shepherd; I shall not want.
He makes me to lie down in green pastures;
He leads me beside the still waters.
He restores my soul;
He leads me in the paths of righteousness 
For His name's sake.
Yea, though I walk through the valley of the shadow of death, 
I will fear no evil; 
For You are with me; 
Your rod and Your staff, they comfort me.
You prepare a table before me in the presence of my enemies;
You anoint my head with oil;
My cup runs over.
Surely goodness and mercy shall follow me
All the days of my life;
And I will dwell in the house of the Lord
Forever.
(a Psalm of David)
In The House of the Lord (listen to this song here)
Father God,
You never leave me You never forsake me.
And Your Word…
Gives me courage to go where you take me.
You are with me through each dire upheaval.
With You in me I will fear no evil.
As I walk through the shadow of death…
I will sing till my very last breath…
Green pastures, still waters…
Goodness and mercy for your sons and daughters…
True love dwells in the House of the LORD.
Each person, each nation…
Can be renewed through Your sweet restoration…
True love dwells in the House of the LORD.
Father God,
You made a Way for my total redemption.
I believe…
Jesus died to provide that exemption.
He's my shepherd through thorns and thru clover.
He's my new wine, and my cup runs over.
As I walk through the shadow of death…
I will sing till my very last breath…
Chorus
© Copyright Tony Funderburk 2010
Stay tuned…