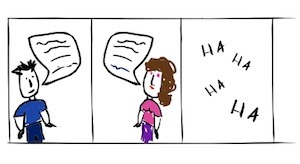 When I was a kid, one of the expressions we had when we were about to leave someone's house and knew we weren't going to see them again for a while was: "See you in the funny pages".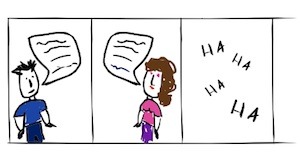 Silly I know, but times were more innocent back then. And we were talking about the comic strips you see in the newspapers. We called them the "funny pages". I remember my Grandmother would read certain comic strips to me while we were waiting to go to church. Old favorites like "Alley Oop" and "Beetle Bailey" and "Gasoline Alley" were weekly standards…and one of the ways I learned to read before I ever went to school. (see…reading to and with kids works)
Even though actual paper newspapers are fading away, there are still lots of ways you can share innocent, fun reading with kids. (hey, you're right here in the middle of one of those ways right now) And whether you're in the funny pages, or a fairy tale, or interactive ebooks for kids…as long as you make it fun…they'll never know they were "in a class".
Now, here's a fun way you can get them to enjoy reading. There's a way they can see themselves in the mirror of your computer when you read them this Rhyme Time poem. Read the whole poem, and then click on the link. They'll be so surprised when they see themselves in the mirror…
See you in the funny pages.
See you in the soup.
See you in the cracker barrel
And the chicken coup.
See you in the snickerdoodle.
See you in the trees.
See you in the jellyfishes
In the seven seas.
See you in the television.
See you in the sink.
See you in the macaroni
See you in this link.
Stay tuned,

P.S.  I really appreciate your support here on my website. Here are some other awesome ways you can keep my words and music flowing.
Get my ebooks for kids on Amazon.com or Smashwords
Subscribe to my Podcast
Circle me on Google +
Like my fan page on Facebook
Follow me on Twitter
Watch my videos on YouTube
Subscribe to this blog