If a man has long hair, is he disgraced in the eyes of God?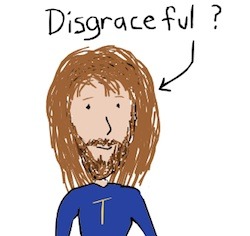 No. In 1 Corinthians 11:1-16 Paul talks quite a bit about hair…on men and women. But is it truly the length of hair that Paul is concerned with? No. It's actually our "covering". In the New King James version of the Bible, you can see subtitles for sections, and the subtitle for this section is "Head Coverings".
Do you suppose God truly cares about the length of hair a person has? Again, I say an emphatic "no!". Read the verses and really pay attention to what Paul lines out, and you'll see what I mean. He illustrates a hierarchy: "the head of every man is Christ, the head of woman is man, and the head of Christ is God". A few lines down he adds "for a man…is the image and glory of God: but the woman is the glory of man".
Then Paul adds a point that backs up the creation of man and woman: "for a man is not from woman, but woman from man. Nor was man created for the woman, but woman for the man".
OK, men…before you think this is a license to dominate the women, stop. Think for a moment about how God sees us. Men AND women were created by God. He loves us equally, and we have equal value in His eyes. But God knows that no relationship can flourish when everyone's in charge. So, He put man "in charge" of woman (so to speak), and men are to have authority over women only inasmuch as men are willing to submit to God's authority.
In other words…God is the covering for men, and men are to be the covering for women. And Paul adds a vitally key point: "nevertheless, neither is man independent of woman, nor woman independent of man, in the Lord".
We need each other. And there isn't one man or one woman who can thrive in this life apart from that truth. And when Paul mentions "if a man has long hair", he doesn't do it to say long hair is wrong or a sin. He's telling us the man shouldn't be the woman. And the woman shouldn't be the man.
Of course, nowadays that's neither politically correct to mention nor even tolerated by the beautifully tolerant. But "the world" doesn't determine Truth. That's a gift from God.
Now, pardon me while I go comb my hair and trim my beard.
In Faith, Hope, and Love…