Back in the late 80's, when I was a full time traveling singer songwriter, I wrote a lot of songs in hotel and motel rooms. And then I'd do my best to set up my analog Yamaha four track recorder, keyboards, outboard drum & percussion machines, and microphone into a makeshift recording studio.
There never seemed to be any shortage of songwriting material. You meet a lot of "interesting" people across the highways and byways of America. And lots and lots of them were quite willing to share their life story…while having a drink or two or three  or four…whether I asked to hear it or not.  🙂  I also remember thinking how uncanny it was that so many people had been singers, or guitar players, or piano players…but they "just didn't do it anymore" because they had to get a "real job".
It was also surprising to me how many of the people I met who thought my lifestyle must be the best in the world.
"Oh what I wouldn't give to only work 4 hours a day" was an exclamation I heard a lot. They thought it must be just like the song by Dire Straits called "Money For Nothing". They figured musicians got "money for nothing and their chicks for free".
"Yeah, I saw you guys laying out by the pool today…must be nice" was another one. As if people who have "real jobs" never lay out by the pool or take beach vacations. Funny how skewed we all let our vision get when we see someone else's lifestyle as better or pampered or more ______(fill in the blank) than our own.
The main thing, for me, was…I made a living with the talents and skills that I knew were a gift from God. I didn't get rich. I didn't get the luxurious homes in several parts of the world. I also didn't get paid vacations, sick leave, 401k's, medical and dental benefits, and a host of other "real job" perks. But I didn't care. I was living a life described on a coffee mug I bought (and still have) that says on one side: Do What You Love  and on the other side it says Love What You Do.
It's not for the money that we should hold on to the dream in our head and our heart. It should be for the love. That's why I wrote this song for a friend who was struggling at the time to hold on to her dream of being a photographer. Here are the lyrics to "Hold On"…and you can hear it on my free music player HERE.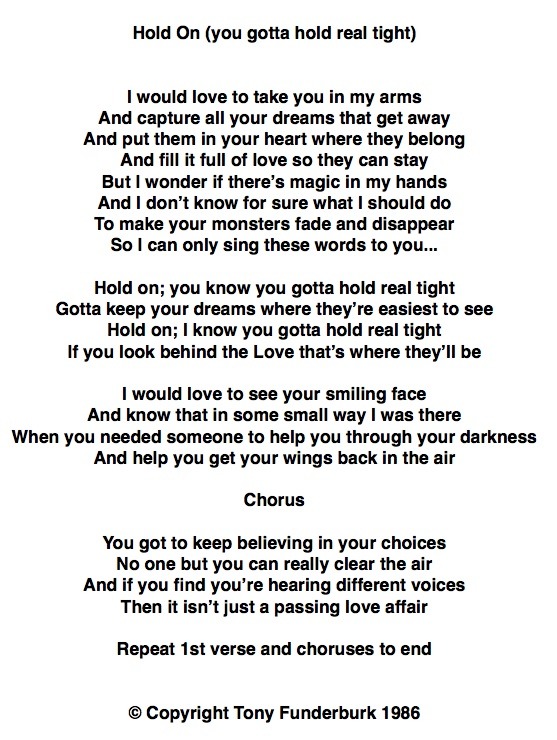 Stay tuned,



P.S.  Connect with me on  Google +
Follow my tweets on Twitter
Like my fan page on Facebook