If you're a Christian, why do you follow Jesus? Maybe you're like me and King David…maybe it's because you can say "He has heard my voice".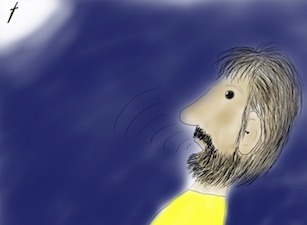 I never get the sense or feeling that God doesn't hear my voice. I believe He hears my prayers, my joy, and my despair. He knows what I need even before I ask or tell Him. Yet, He wants me to talk to Him and spend time with Him. And that makes Him the ultimate good Father.
Most of my adult life has been spent in the world of words and music. So, I've used my voice to pay my way. I'm grateful, thankful, and indebted to God for the gift of music…for my voice. If I give credit to Him for even having a voice, doesn't it make sense to believe He has heard my voice? Of course!
Now understand, you don't need to be a singer to have your voice reach God's ears. If you've accepted Jesus as your personal Savior, He has heard your voice, too…each time you pray and thank Him for life and love.
If you're not a Christian, you have a great opportunity to make a direct connection to the one, true, living, loving God who created heaven and earth and everything in existence. You can personally speak to God, and He will personally listen. He doesn't pass it off to some secretary or some other angelic gatekeeper. He, alone, is the Master of all creation…the only one big enough, powerful enough, and loving enough to hear your voice.
Please consider your own fate today. It's in your hands. You get to choose where you prefer to spend eternity. I guarantee if you ask God to come into your heart and change you forever, He will. And I suspect you'll rejoice along with all the angels…and me…and cry out, "He has heard my voice!".
Stay tuned…