Grady's Green Eyes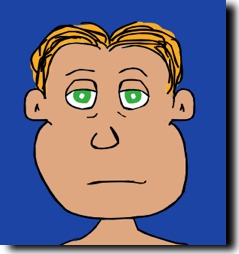 Grady had green eyes and it was great…
At least until it started getting late…
'Cause even though he wouldn't make a peep,
Grady's green eyes wouldn't let him sleep.
Grady's green eyes glowed when it was dark…
Which sometimes made his dog, Beethoven, bark.
But what's a glowing, green-eyed boy to do?
Even with closed eyelids they shined through.
Every single night his green eyes glowed,
And in poor Grady's face the sadness showed.
He couldn't stay awake both day and night.
He had to stop this green and glowing light.
One night he was particularly tired,
Uncomfortable, completely uninspired…
But then he heard a small, familiar sound.
He sat up fast so he could look around.
It sounded like his own voice in his head.
But then it floated out beyond his bed,
And then he saw a glow behind the door,
And Grady knew he had to go see more.
He closed the open door and looked behind.
He didn't have a clue what he would find,
And then he saw the mirror on the wall
Begin to glow and then he heard it call…
"Hey Grady. Come and look into my eyes.
There's something I think you should realize."
Well, Grady had to go and see, of course…
The mirror's voice had such magnetic force.
He took three steps and ducked down on his knees
And even had to stifle back a sneeze.
He sneaked up to the wall and raised his head,
And as he did here's what the mirror said…
"Hey Grady, I've got green eyes just like you.
But my eyes don't show up until you do.
And my eyes don't keep me awake at night…
So here's what we could do to set things right…"
"Look deep into my eyes and then just smile,
And think about what makes life all worthwhile…
And when you understand you're truly fine,
The glow inside your eyes will flow to mine."
So Grady looked into the mirror's eyes…
And very quickly got a sweet surprise.
His glowing stopped, and then he fell asleep
Into a sleep so beautiful and deep.
And when the morning sun touched Grady's head,
He woke up, and he leaped out of his bed,
And went right to the mirror…couldn't wait…
His green eyes didn't glow…and it was great!
 
Stay tuned,


P.S.  Get my children's books on Amazon.com
Add my page on Google +
Like my fan page on Facebook
Follow me on Twitter
Watch my videos on YouTube