When you put your faith in The Way, The Truth, and The Life known to all the world as Jesus, you receive grace…a free gift of God. But have you ever thought about how much it cost Him?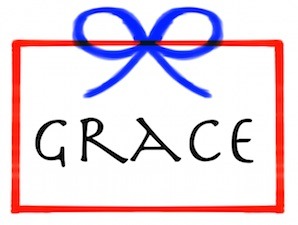 I don't mean only the horrible death on a cross. That's enough to save the whole world…past, present, and future. But there's something infinitely more costly involved. Think about this for a minute. For eternity past until His birth in Bethlehem, Jesus had always been Spirit only…also known as the Second Person of the Trinity, God the Son. He didn't have the constraints of a flesh and blood human body.
He gave that freedom up forever when He chose to become flesh and dwell among us. Forever. That's time without end. Starting about 2,000 years ago Jesus became a flesh and blood man, and He'll be that way forever. When you die and go to be with Him, you'll see Him as He was when He lived right here on planet Earth all those years ago. Well…He'll be glorified and incorruptible, never to die again just as you'll be in His presence…but He'll be a flesh and blood man. Someone whose hand you can hold. Woo-hoo!
That's an inkling of why Christians say "Amazing Grace". Maybe you've heard the words to a song. Maybe you wondered what it meant when it said "that saved a wretch like me". Well, it's the amazing grace gift of God that turns wretches into saints. Which would you choose to be: wretch or saint?
If you've already chosen to accept the free gift of grace, you're my brother or sister. If you haven't, I'd sure like to welcome you to the family. Join today before the expiration day comes for the gift of grace. Here's a song for you…

Podcast: Play in new window | Download
Tune In On iTunes Apple Podcasts | Google Podcasts | Spotify | Android | Pandora | iHeartRadio | Stitcher | Email | TuneIn | Deezer | RSS | More
Stay tuned…