Feel free to freewheel on down through this explanation and read the lyrics if you like…
Back in the late eighties and all through the nineties I was an avid mountain bike rider. I had a rack on the back of my Toyota pickup and my mountain bike went with me all around the country. I was a traveling musician.
I'd ride at least 20 miles a day on most days. And I'd take my bike through towns, off road, and just about anywhere a bike could go. It was a blast, and I stayed in great shape. One thing I never did…because I think it should be illegal…is wear any spandex riding shorts.  🙂  Sorry, but those don't look good on anyone. Period.
And I subscribed to cycling magazines, got some extra gear, and even bought fatter tires with all the gel inside…especially when I rode in West Texas where thorns are as big as small swords. There's a term used to describe the experience of cycling when you're riding fast and the sprocket spinning is effortless… "freewheel". I liked that term and that feeling so much I used it in a song. (if you're a TF email subscriber, you'll get a free version of the song)
Anyway…here are the words…now, where did I put my bike?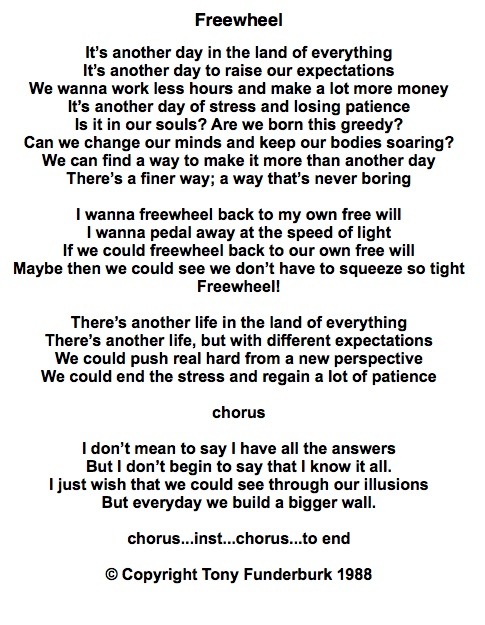 Stay tuned,


Get my Rhyme & Reason Podcast delivered (free) right to your player.
My books are also on Amazon.com or Apple Books
Grab yourself a cool tee
Or how about some music for kids