Maybe you've heard of the "father of classical mechanics and calculus"…Isaac Newton. Or maybe you've heard of the "father of modern physics"…Galileo. Surely you've heard of the "father of physical cosmology"…Albert Einstein. But more important to your everyday life is the "Father of mercies". Perhaps you've heard of God?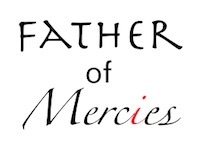 I don't know how many times I've listened to an unbeliever say how Christians "need a crutch, so they created God". OK, I'm completely willing to admit my broken spirit needs the comforting crutch of the God who loves me. And I won't deny myself that crutch anymore than I'd deny myself a wooden crutch to help me with a broken leg.
But I certainly didn't (and don't) conjure up a god just to make me feel better. If I had, surely I could have conjured up something or someone who would do a better job on me than what is evident. Of course, you could misconstrue that statement to mean I don't think God has done a good job on me. Nothing could be further from the truth. He has saved me from a tormented eternity. He has saved me from myself. The thing is…He doesn't put my right foot in front of my left and vice versa. He doesn't choose my job or my breakfast or my vehicle or my reading material or any other of my daily choices.
So…God isn't responsible for the bad choices I make or the bad things that have happened to me in my life. But I give Him all the credit and glory for any and all of the good in my life. And this brings me great comfort…far beyond what an unbeliever is even remotely able to comprehend.
The comfort I receive from the Father of mercies imbues me with hope…the kind of hope you may have heard "springs eternal". If that sounds silly and childish to you, so be it. If it sparks something mean in you that has to rise up and ridicule, so be it. If I suffer the slings and arrows of your outrageous misfortune, I chalk it up to life in a broken and dying world. My comfort comes in knowing I'll also partake in the consolation of a risen Savior.
If you're reading this, it means you're still breathing. So…it's not too late for you to also get this crutch for your broken spirit. With all this talk about so-called "free insurance", don't you think an eternal insurance policy should at least be investigated?
In Faith, Hope, and Love…