Ebooks For Kids Will Soon Include Izzy
Izzy is the star of the next one of my ebooks for kids…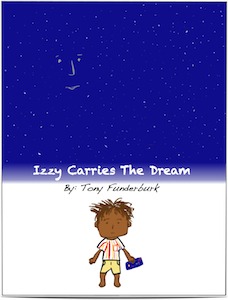 Imagine you're not sure if you're awake or asleep. Suddenly you see a yellow fireball coming right at you. You look to your left and right and there's nothing but a deep, dark abyss to fall into. What do you do?
That's Izzy's dilemma. And he finds his only help coming from a foggy face in the sky. Yeesh… what's a kid to do?
I'm finishing up the illustrations for "Izzy Carries The Dream"…hopefully today. And you'll be able to see this latest one of my ebooks for kids on Amazon. Shortly after that I'll make it available here on TonyFunderburk.com
It's fun to draw little quirky characters who have to face challenges in their dreams. In case you haven't been following my bedtime stories…I've already written, illustrated, and published two other bedtime stories in the "Bedtime Buckaroos" series. There's gonna be several more of those; however, I've been working on a few others like "Izzy" to explore other parts of imagination.
So…please watch for more upcoming ebooks for kids with characters who either have to find a way to get to sleep…or find answers in their dreams…or figure out why they're dreaming the dreams they're dreaming.
Am I just dreaming?
Stay tuned,


P.S.  Get my children's books on Amazon.com
Circle me on Google +
Like my fan page on Facebook
Follow me on Twitter
Watch my videos on YouTube