If you've ever watched any of those old Three Stooges movies, you've probably heard Moe call Larry and Curly "lame brain" more than once. Of course, that was the pot calling the kettle black. Moe was every bit as much a lame brain as the others. He just got to be the leader of the pack.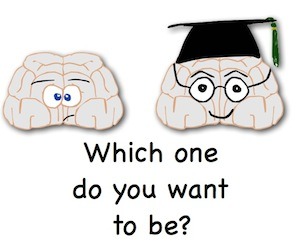 When I was a kid, most moms were homemakers. And they'd make breakfast for the kids before sending them off to school. I won't say we always had perfect meals, but 9 times out of 10 we had something more than a dried up cereal, full of sugar, out of a box. I remember bacon, eggs, toast, cantaloupe, oranges, bananas, oatmeal with pecans, and lots more good stuff like that.
Those kinds of food give your brain a head start for the day. And they help build powerful brains for your whole lifetime. With a powerful brain that's wide awake, you can read faster, understand more, and learn how to make the most of the gifts and talents God gave you.
That's why today's Rhyme Time is about the difference between being a lame brain or a brainy brain. Now, get out of your chair, go have some fruit or a smoothie, and give your brain a good workout.
~ Rhyme Time for Today ~
A lame brain can't drive a train.
A lame brain can't fly a plane.
A lame brain can't add or spell.
A lame brain don't talk so well.
A brainy brain reads poems and books.
A brainy brain takes second looks.
A brainy brain eats greens and fruit.
A brainy brain has pep to boot.
So, a lame brain or brainy brain…
Which one will your head contain?
From breakfast and all through the day…
Go for brainy…all the way.
Stay tuned,

P.S.  I really appreciate your support here on my website. Here are some other awesome ways you can show your support, keep my words and music flowing, and keep me off the streets.
Get my ebooks for kids on Amazon.com
Subscribe to my Podcast
Circle me on Google +
Like my fan page on Facebook
Follow me on Twitter
Watch my videos on YouTube
Subscribe to this blog