Do you ever dance in the kitchen?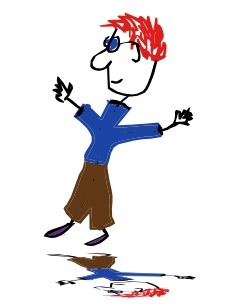 If not…why not? Who says the kitchen is just a place to prepare and cook food? After all…isn't the kitchen the place where most everybody ends up when there's a special occasion? Exactly. That's where all the good smelling and tasting is. Right?
If you make mealtime more fun, you might be surprised at how many health benefits you'll get from it. It's true. Smiling, laughing, and even dancing burn more calories and lift your spirits. Here, at the FunderRanch, there's a real goofy guy who turns on the big sound system and does some very goofy dances at dinnertime. He moves around making funny faces, and he even makes the dogs follow him around in circles. Everyone laughs and before you know it, dinner's ready…and everybody's hungry.
What do you do at dinnertime? Does the family gather around and tell stories of the day? Share some fun or funny things you and your family do when it's time to start…
Cookin' up black beans…
Biscuits and butter…
I'll be the chopper…
You be the cutter.
We need a salsa…
Also a salad.
Put on some music…
Bach or a ballad.
Dance in the kitchen…
Turn up the laughter…
Times like this live
Here ever after.
Pepperjack cheese on a
Crisp tortilla…
A dash of salt and
Some mantequilla.
Dance in the kitchen
With a song and smile.
Times like this
Make life worthwhile.
Stay tuned,

P.S.  I really appreciate your support here on my website. Here are some other awesome ways you can show your support, keep my words and music flowing, and keep me off the streets.
Get my ebooks for kids on Amazon.com
Subscribe to my Podcast
Circle me on Google +
Like my fan page on Facebook
Follow me on Twitter
Watch my videos on YouTube
Subscribe to this blog