Doubt: a feeling of uncertainty or lack of conviction When you have doubt about something in your life, you either aren't sure it applies to you (or you to it)…or you just can't seem to commit to it for some reason. This is just as true of Christian doubt and even more crucial to your well-being…here and now, as well as for eternity.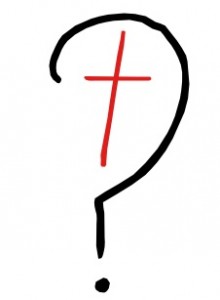 Why do I differentiate between doubt and Christian doubt? Well, day-to-day doubt, those nagging thoughts about whether or not you have enough strength, or time, or resources…those doubts can simply give you a bad day. But Christian doubt arises from not knowing the Word of God or if it applies to you or if it's relevant for these "modern" times. And the doubt can grow when we don't commit to discovering the truths found in the Bible. And this doubt can have eternal consequences.
Pretty corny, old-fashioned stuff, right?
Truth can sound very old-fashioned to anyone who believes everything is relative. The common thought that prevails in America (and much of the world) today is "if it's right for you, then it's right". After all…who am I to tell/suggest/advise you on what's best for YOUR life. I should just keep my ideas to myself, and if they work for ME, then that should be enough. I'm sure you've heard something similar expounded from a variety of sources.
However…just in case you weren't aware…this very idea is written about in the Bible. It says "The way of a fool is right in his own eyes, But he who heeds counsel is wise." Now, you may disagree that the Bible is true. In that case, I suggest you actually read it. Find out what it says, why it says it, and whether there's any way to verify its claims. I believe you'll find it to be the most reliable books of facts and book of history on the planet. Maybe that's why it's been the world's bestseller for a few hundred years.
If you're a Christian, and you find yourself lingering in Christian doubt, consider reading Romans 8. Find out what turned Saul, a man who persecuted the early Christians, into the Apostle Paul…a man who was convinced that Jesus was who He claimed to be.
Truth erases/negates/eliminates Christian doubt.
In Christian Love…

P.S.  I really appreciate your support here on my website. Here are some other awesome ways you can keep my words and music flowing.
Get my ebooks for kids on Amazon.com or Smashwords
Subscribe to my Rhyme Time Podcast
Circle me on Google +
Like my fan page on Facebook
Follow me on Twitter
Watch my videos on YouTube
Subscribe to this blog