Children's Writer For Real
I've been calling myself a children's writer for years. Now, I have some official recognition of that label.
A while ago I completed a lengthy course on writing for kids by the Institute of Children's Literature. And recently they sent me my official diploma. Here it is…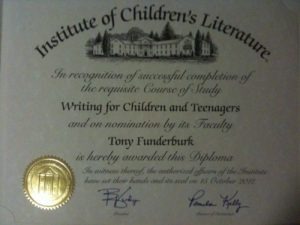 This was a great course, and I recommend it to anyone interested in being a children's writer. My writing coach/teacher provided constructive criticism, encouragement, and even ideas for where to send my writing. I don't get paid to say that. And I don't make any commissions for links I provide to the Institute of Children's Literature. 
My preferred path is self-publishing because I see so many opportunities…Kindle, iPads, Nooks…not to mention (but I will) all those smartphones out there that people can read books on the go with. I've already published two books on the Kindle self-publishing platform…with a third in the works. I'm doing my own illustrations, so it takes a bit longer, but I won't have to wait to get picked by a "traditional publisher". I'll just upload the optimized files and boom! There'll be the third one of my ebooks for kids on Kindle. And if you have the Kindle app on your iPhone, iPad, or other mobile device or computer, you'll be able to read my books without having to buy another device.
OK…that's all for now. Thanks for your support. My readers and followers are the best. Be sure and watch for the next one of my bedtime stories "Music Pajamas" coming to Kindle very soon. And if you haven't already checked out "The Code" and "Till Mornin' Skies", they're each only $3.00 to download at Amazon.com.
Stay tuned,


P.S.  Get my children's books on Amazon.com
Add my page on Google +
Like my fan page on Facebook
Follow me on Twitter
Watch my videos on YouTube