Black Friday From A Singer Songwriter's Perspective
OK…admittedly I'm a guy. So maybe I've never been a shopaholic because I'm such a stereotypical guy on the issue of shopping. In my role as a singer songwriter, I've written about shopping on more than one occasion…but I don't believe I've ever given it a "plus" in my ledger. So, Black Friday doesn't really affect me directly.
I don't have anything against shopping, mind you. In fact, point me to the nearest Apple store, or the nearest music gear shop, and I can spend an inordinate amount of time in either one. But I don't go often. And I don't go merely to "shop". I go to buy. And here's the thing…
I really, really, really don't like a frenzied crowd when I'm going to buy something. And I don't want to buy simply because "it's that time"  or  "everything's on sale".
And…this next part is gonna be somewhat controversial…we don't celebrate the "holiday season" in the Funderburk household. At this time of year we celebrate Thanksgiving (hope you had a good one yesterday, by the way) and Christmas. Both of these are days we're extra special thankful to God for our lives and for His love. We don't need lots of presents and/or an over abundance of food to make us remember. We enjoy those things as much as anyone, but they're not necessary to the reason.
So…I hope you won't let yourself get all caught up in the retail "reason for the season" this year. Just love your family, enjoy your freedom, and remember Who and where the source of it all is.
Below you'll see the lyrics and a link to a song that's my gift to you. As always, if you haven't already gotten the three other free songs over there on the left, fill in your email address and get those too.
Stay tuned,

P.S.  Follow my singer songwriter tweets on Twitter
Like my singer songwriter fan page on Facebook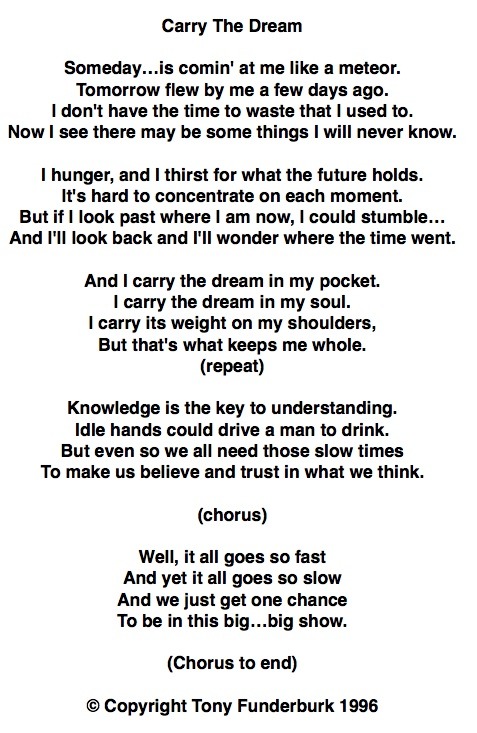 Podcast: Play in new window | Download
Tune In On iTunes Apple Podcasts | Google Podcasts | Spotify | Android | Pandora | iHeartRadio | Stitcher | Email | TuneIn | Deezer | RSS | More